MANCHESTER — Since its inclusion as a Burr and Burton varsity sport in 2019, ultimate – formerly known as ultimate frisbee – has been a co-ed sport for the Bulldogs. BBA's had at least one female on its roster every single year, but have participated in the boys tournament because there's never been enough interest to field an all-girls team.
That is until now.
Girls ultimate is the newest varsity offering at BBA this spring, with 11 players making up the inaugural squad. The Bulldogs are slated to play eight regular season games in 2023.
Charlotte Duffy played on the co-ed junior varsity team last year, and is a member of this year's girls varsity team. The BBA senior is excited to see the sport grow.
"Seeing more interest in ultimate frisbee is really great," she said. "It's great to have a girls team."
Duffy was instrumental in the creation of the team. There was hope within the program last year that a girls team would be possible. A number of students expressed interest but come time for tryouts the Bulldogs did not have the numbers. Instead, the female student athletes who attended tryouts were split up between the junior varsity and varsity teams, which were once again co-ed. Duffy and Ariana Monegro-Vilchez played on JV, while Kaitlynn Cherry played varsity.
This year, Duffy recruited a couple of her friends to join the team, helping boost the numbers and make a girls team a reality at BBA.
"A lot of recruiting was done," Duffy said with a smile. "People wanted to try something new, which was great."
"Some of these girls last spring played other sports, and they switched to ultimate," said BBA coach Nixi Cura. "Yes they want to be with their friends but also they're fascinated with this new sport."
It also provided an opportunity to be a part of something bigger.
"They have a chance to be pioneers," Cura said. "They're the first all girls ultimate team at BBA. In fact, the first all girls ultimate team in Southern Vermont."
Six girls programs were created when ultimate became a varsity sport in 2019, though no schools in the southern part of the state: Bellows Free Academy Fairfax, Burlington, Champlain Valley, Montpelier, South Burlington and St. Johnsbury Academy.
Middlebury fielded its first team in 2021, and Mount Mansfield became the latest expansion program last spring. Spreading the game to a new region is something those in Manchester are thrilled about.
"We're justifiably proud of that," Cura said. "They want to be in the inaugural team; they're excited about leading the way."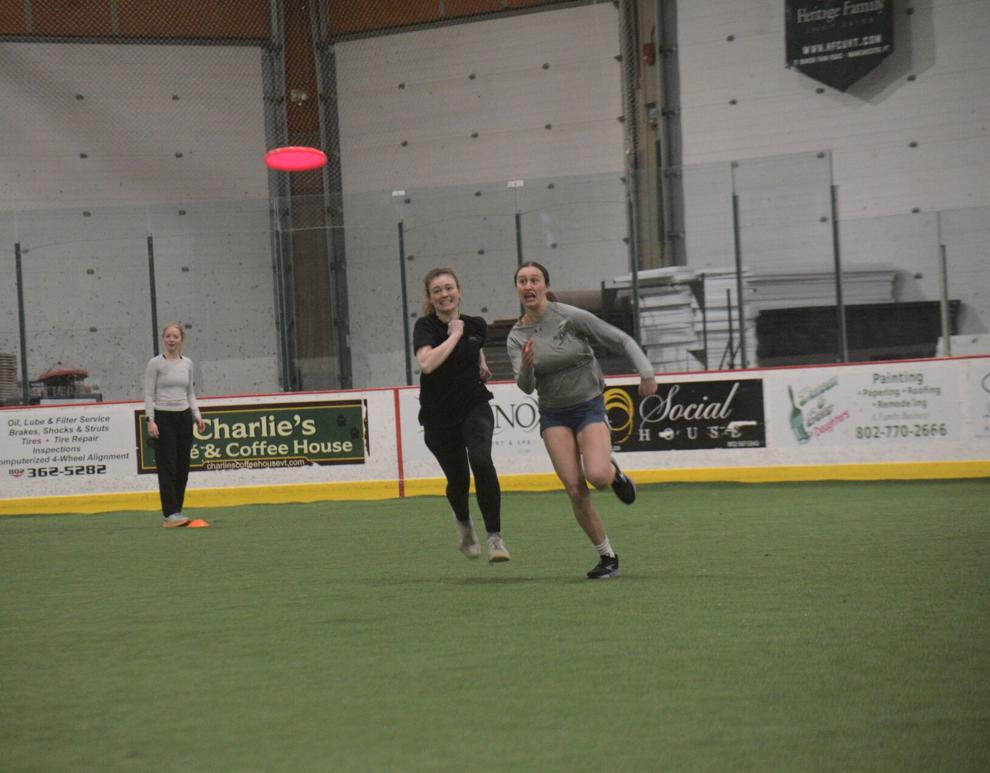 There's a palpable energy within the program as it concludes its first week. Inside Riley Rink Thursday afternoon, the Bulldogs worked on defensive techniques and simple throws. The practice included music and plenty of smiles throughout the field.
"Right now is just trying to get the fundamentals and the basics down, and just having a good time," Duffy said. "Keep it going for years to come."
Roster: Kaitlynn Cherry, Arianna Monegro-Vilchez, Lily Birch, Mirabelle Bromley, Nell Bryant, Alice Clark, Charlotte Duffy, Maura Grazioso, Hailey Hadlock, Skylar Jager, Sydney Kulis, Rorie Mara, Amelia Sherwood