BENNINGTON — For the 10th time in as many years, Mount Anthony girls soccer alumni will flock to town this weekend to participate in Play it Forward, a weekend of events aimed to connect the Patriots of the past with current MAU players.
Food will be eaten, an alumni game will be played and memories will be shared; including those of Maria Greene and Brandy Brown who died in a 1994 car accident while members of the program.
That sudden loss altered the perspective of friend and teammate Diane Peacock, who returned to Vermont two weeks prior to the accident after studying abroad in Germany.
"To have a first hand look at the other side of the world and the other side of life in one summer changes a girl forever. At least it did me," Peacock wrote in her travel blog, Blue Lollipop Road.
It spurred a life of travel in the 1996 MAU graduate, who visited all 50 states and 17 different countries after graduation. Those travels eventually led Peacock to her friend and fellow 1996 MAU graduate Kate Emma Adams (Schlosser)'s house in New Hampshire, where she encouraged Peacock to start an alumni game.
In 2012, the first alumni game was played. Fast forward 10 years later, and many of the same traditions are set to take place this weekend.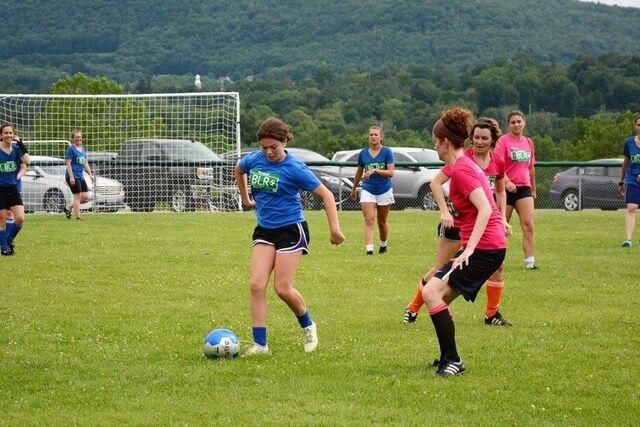 Friday night will serve as the welcome back party at Ramunto's on Main Street, starting at 7 p.m. Saturday's events will include the strong mojo summit at noon at Willow Park, followed by the alumni game at 2 p.m. The weekend events will conclude with celebration cocktails at Little City Cider Company at 7 p.m. on Saturday.
The strong mojo summit is an opportunity for alumni to share stories with today's Patriots soccer players in an open forum. The phrase comes from Traci Molloy, who has been an instrumental part of Play it Forward from the beginning and will co-lead the summit with Peacock.
Molloy coached the freshmen girls soccer team while teaching art at MAU and the Patriots used 'strong mojo' as their rallying cry to break huddles. The phrase came from one of Molloy's college professors, who leaned over her shoulder while looking at her work and said "that piece has some strong mojo!"
Peacock describes the phrase, which can be found on the back of the Play it Forward T-shirts as "the undefinable essence of perfection when everything comes together magically on the field."
The summit returns as a new coach, Molly Madore takes the reins at MAU. Although Madore's first season doesn't officially begin until next month, she wasted no time getting herself acclimated.
The former Southern Vermont College soccer player and 2019 SVC grad expressed she hoped to receive feedback from alumni about what it means to play for MAU and how those experiences shaped their lives today to share with her players. That's when fellow MAU soccer alumni Amanda (Worthington), who has a daughter on the team, reached out to Peacock.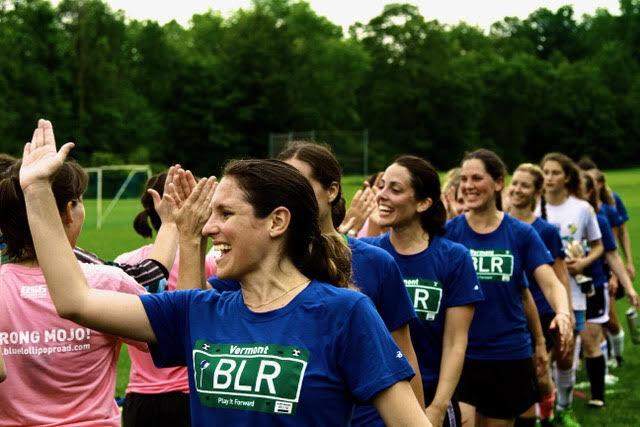 It was perfect timing for Peacock and Play it Forward, who have not put on a full sequence of events since 2017, when they donated a kickwall at Willow Park in memory of Greene and Brown.
Interest had not been as high as hoped in the past few years. Peacock sees this as a great time to pass the torch to the next generation of women involved in MAU soccer. The bulk of the participation over the past decade has come from alumni who graduated in the 1990's. While those alumni are still interested in supporting the program, their interest in actually playing the game has dwindled in recent years.
"She's the energy we've been looking for for all these years," Peacock said of Madore. "We certainly will always visit but as we are getting our crusty old cleats out of the closet and saying 'oh geez, I'm too old to play an alumni game,' we kind of have more interest in the social aspect and community than actually playing the game."