BENNINGTON — History was made last Saturday in Poultney, as Sophia Kipp converted two extra points, becoming the first female player in Mount Anthony football history to score a point for the program.
Kipp explained how she was feeling when the coaches called her name for the first time with a single word.
"Terrified," Kipp said.
The junior, who wears number three for the Patriots, was called upon during the middle of the game after MAU kicker Josh Worthington's leg was bothering him.
Once Kipp drilled her first extra point through the uprights, that sense of fear subsided and was replaced with pure joy.
"It felt amazing," Kipp said. "I was like, 'Oh yeah, that's awesome!'"
Kipp has been told that she is an aggressive player in whatever sport she plays. The junior is also on the MAU girls basketball and girls lacrosse teams.
She gravitated toward football for the physicality associated with the game.
"I've always wanted to do a contact sport, because girls sports don't really offer that," Kipp said.
Kipp approached coach Chad Gordon last year about kicking for the team.
"I thought, oh I should do football, because it would be something that I would be really good at," Kipp said. "Over the summer, I was working really hard for it. I love it so much."
The hard work has garnered results for the junior. Female kickers have begun surfacing more frequently in recent years. Most, however, are also soccer players. Kipp hasn't played soccer in years.
Kipp originally wanted to play a skill position in the field, but her parents were concerned with her potentially getting hurt while being tackled and persuaded her to kick for the Patriots instead.
"But I prefer being on the field," Kipp said.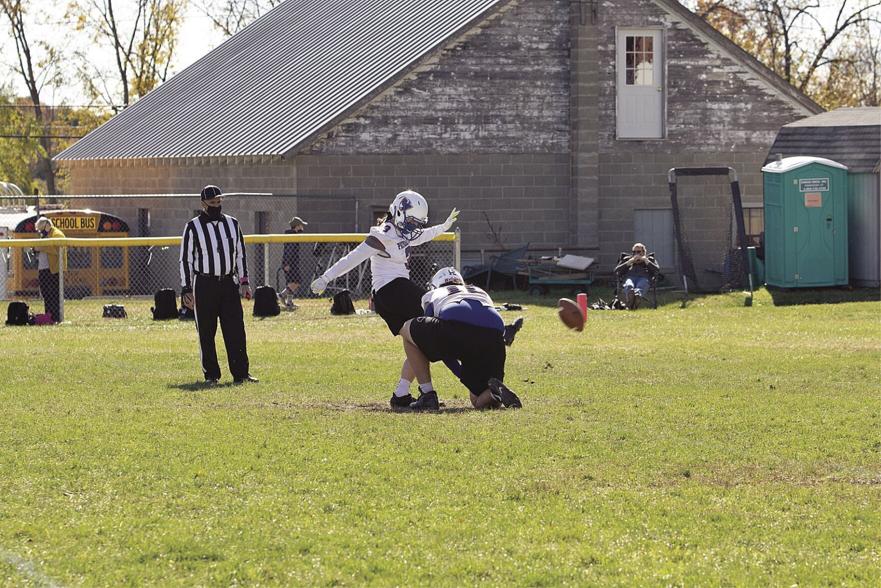 On the field is exactly where Kipp found herself in Poultney, and not just as a kicker. The junior also hauled in a catch in the MAU victory, her first of the season. With tackle football not taking place, the opportunity has presented itself for her to see the field both as a receiver on offense and a safety on defense.
Kipp feels at home on the gridiron.
"I love it. It's so different from everything else I've played," Kipp said. "It has the elements of basketball and lacrosse, but it's more."
Kipp said becoming the first female athlete to score a point for MAU football was a goal she had set for herself.
"I wanted to do something that hadn't been done before," she said.
Kipp has played a lot of sports throughout her years, but she called the MAU football team "the best team I've ever been on."
Once she returned to the sideline after her score, Kipp said she was embraced by her teammates.
"They were so excited for me," Kipp said.
Her teammates weren't the only ones. Kipp's parents were in the stands at Poultney and saw their daughter make history for the Patriots.
"They were really excited, they thought it was so cool," Kipp said. "They support me so much through all this."
Kipp encourages other girls who are thinking about playing football to step out of their comfort zones.
"Do it. It's so worth it," Kipp said. "It's definitely built up my confidence a lot."
The junior said she "100 percent" plans to play again next year, for her senior season.