HOOSICK, N.Y. — Jake Sparks is one of the most impactful high school athletes the area has seen in recent years. The Hoosick Falls senior plays three sports for the Panthers, and excels in all of them.
He slung touchdown passes and as the quarterback of the football team in the fall and hauled in rebounds and poured in points for the basketball team in the winter.
It's on the baseball diamond, though, where he's made his greatest contributions – and he'll continue to do so at the next level.
Surrounded by family, coaches and teammates Wednesday night inside the Hoosick Falls Central School cafeteria, Sparks penned his National Letter of Intent to play NCAA Division I baseball for Marshall University in Huntington, W. Va. while pursuing a degree in engineering. Sparks will play third base for the Thundering Herd.
It was a moment three years in the making, as the Panthers' slugger verbally committed to the Sun Belt school in 2020. Positive conversations with the coaching staff as well as current and former players made him feel like it was the right decision.
"To find a good fit that fast, I was pretty lucky," he said. "And then focusing on baseball from there, and getting better."
Sparks said the support he's received from his family played a big role in reaching this milestone.
"It feels great," he said. "I couldn't have done that without them supporting me through it. All the rides and financial support they gave me, all the times they kept pushing me to go … I think it's an accomplishment for all of us."
That supporting cast was in attendance Wednesday night, helping paint the picture of how a kid from a small New York school made it to the ranks of Division I baseball.
His father Bill told the story of a 5-year-old Jake who struggled during a coach-pitch baseball tournament, striking out nearly every time he stepped up to the plate. After the last game of the tournament Jake wasn't defeated. Instead, he was determined to improve. He asked his dad if he could pitch to him while he practiced his swing.
"It was just about dark," Bill said. "We hit buckets of balls until we couldn't see anything. From that day on, after just about every Little League game, and even to this point today, if he has a bad game he wants to go hit."
That led Bill to two words that came up again and again throughout the ceremony as those closest to him explained what makes Jake great: work ethic.
"I think that's part of the reason we're here today," Bill said. "He has a lot of character, he's got a lot of integrity, and he's got a great work ethic."
In Mike Lilac's 33 years as the baseball coach at Hoosick Falls, Jake is the first player to sign with a Division I program. Lilac, who also was Jake's basketball coach, said his level of dedication is unprecedented.
"I know the sacrifice he's put in through the summers. When everybody else was going to the beach or going on vacation, he was working hard," Lilac said. "It's great to see that work pay off … The work ethic is really what I'm most impressed about."
With less than one week until the Panthers begin their season, the standout has one goal this spring.
"Just to win, me and the eight other guys on the field all have the same goal," he said. "Go game by game, get every win we can leading up to sectionals and then wherever sectionals take us, maybe regionals and on to states, you never know. Every game we're going to compete. There's no personal goal as long as the team is doing great."
While Jake was the focus of the attention Wednesday night, he was quick to point out he doesn't do it alone. He described his time wearing the Hoosick Falls blue and white as "great" and said the support from the Panthers community means a lot to him.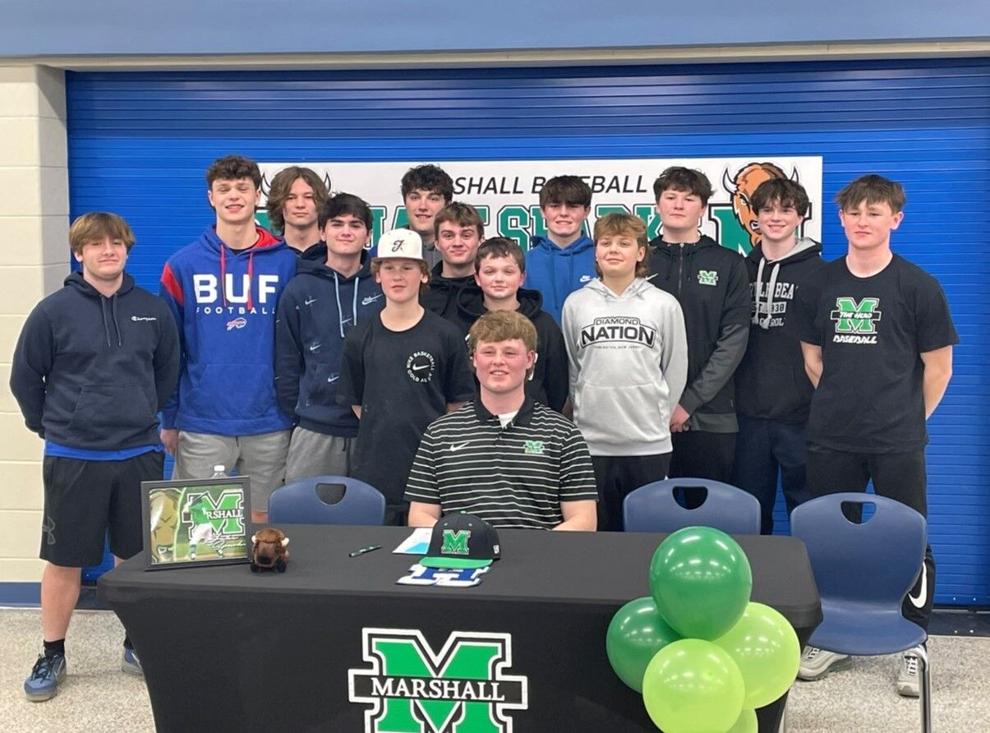 "It doesn't seem like a one person thing," he said. "There's 20 people on the (basketball) court with me whenever I make a three, there's 500 people with me scoring a touchdown. It's awesome."
As for his next chapter, it's no surprise what he's most excited about.
"I'm just looking forward to getting to work," he said. "Studying in all my classes, doing well in that field and then getting on the baseball field with 40 new guys that I've never even really met before."