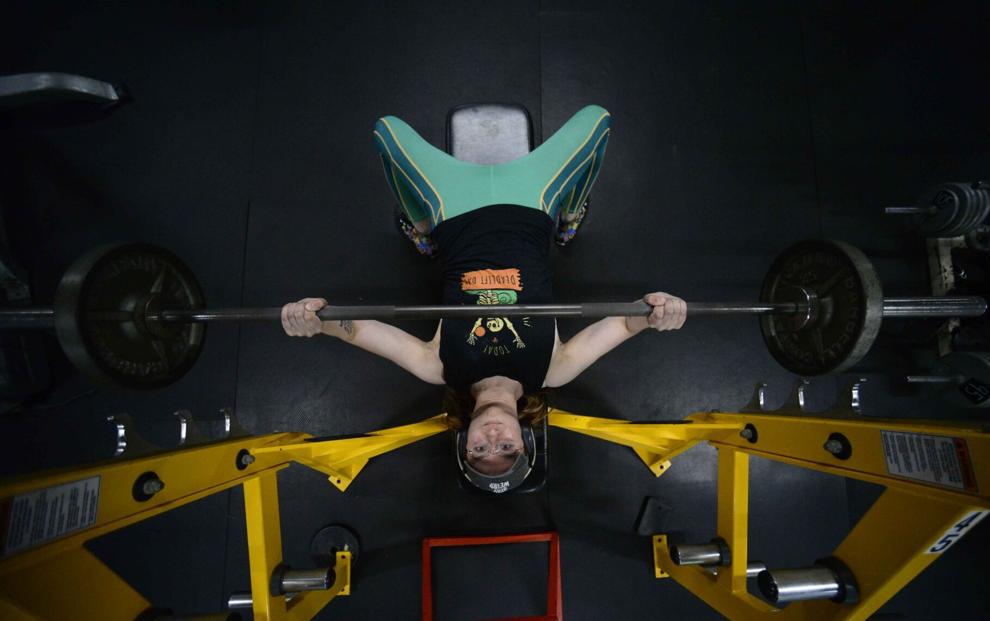 BRATTLEBORO — Everyone has a story. Entering the 36th Annual Can-Am Powerlifting Championships set to take place at Supreme Fitness on Saturday, that was never more apparent from some of the competitors.
Seven people who regularly go to the gym will be competing this year. The age range of the competitors is wide, with some of them in their 20s to others that are in their 70s. How they all came to be competing in the event, as well as why they began powerlifting, is a story all its own.
Until five months ago Tina Dalton had never set foot in a gym. She began powerlifting as a way of coping with anxiety. Once she started doing some heavy lifting, she said she was hooked.
Initially she did not have any aspirations of competing, but after talking with the owner of Supreme Fitness, Carla Grant, she made the decision to compete.
"She showed me how to deadlift and then when she saw my form and how much I was doing she thought maybe I should think about competing," said Dalton. "So, I started talking to everyone else here and they all were really supportive of it."
Since then, she has been training five days a week, two hours a day, to prepare. Competitors can choose to compete in all three categories of squat, bench press, or deadlift, or they may compete in only one or two categories.
On Saturday, Dalton will be competing in bench press and deadlift. Even though the championship has yet to take place, Dalton already has a goal in mind for next year.
"I want to be a record holder," she said. "That's my goal. By this time next year I want to be able to hit the deadlift record for my weight class in Vermont. I think it's 255 right now and I want to hit 260."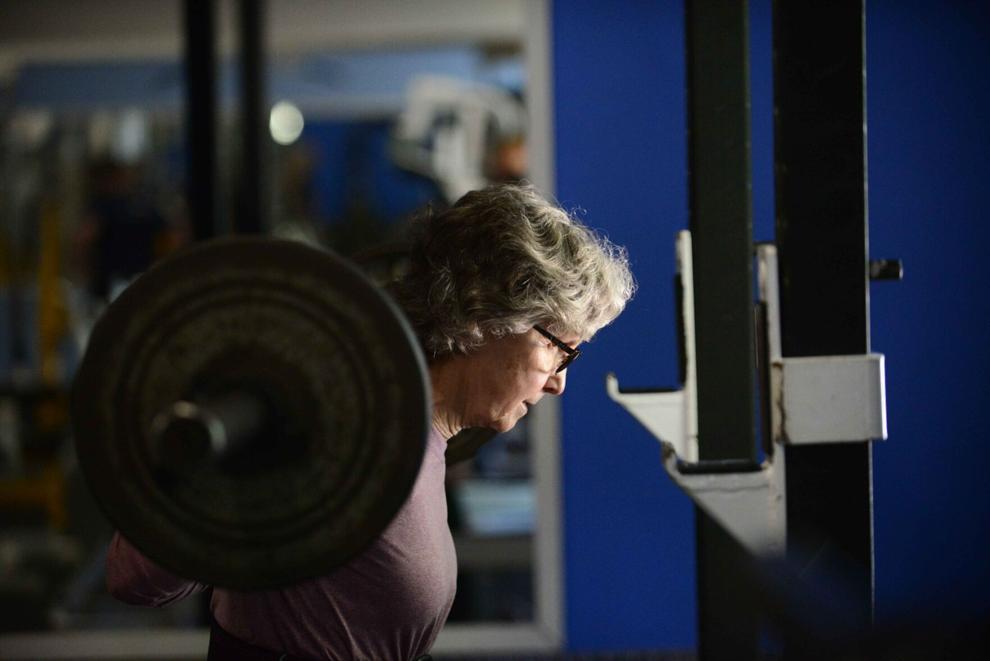 Jane Olmstead, who is a retired teacher, and Rosalind Fritz both began powerlifting due to health issues. Olmstead was diagnosed with osteoporosis 15 years ago.
"I didn't want to spend my life on medication and so I did research. I looked at peer reviewed sites on the science behind that and they all said weight lifting is probably the most effective way to slow down osteoporosis or maybe even cure it (and) add more bone density," said Olmstead.
After lifting for awhile, her bone density scans came back normal and she stopped lifting. Ten years later, she had a new scan and the osteoporosis had returned. Olmstead went back to the gym and began with regular weight training again in 2019. Grant convinced her to begin powerlifting, serving as her trainer.
Since she began powerlifting, Olmstead has been training in all three categories three days a week with one day of regular weight training included in her routine. When she first began, lifting as much as 30 pounds for some of the exercises was difficult. Several months later, Olmstead was lifting at least three times as much.
Olmstead made the decision to compete in December and on Saturday she will be competing in all three categories.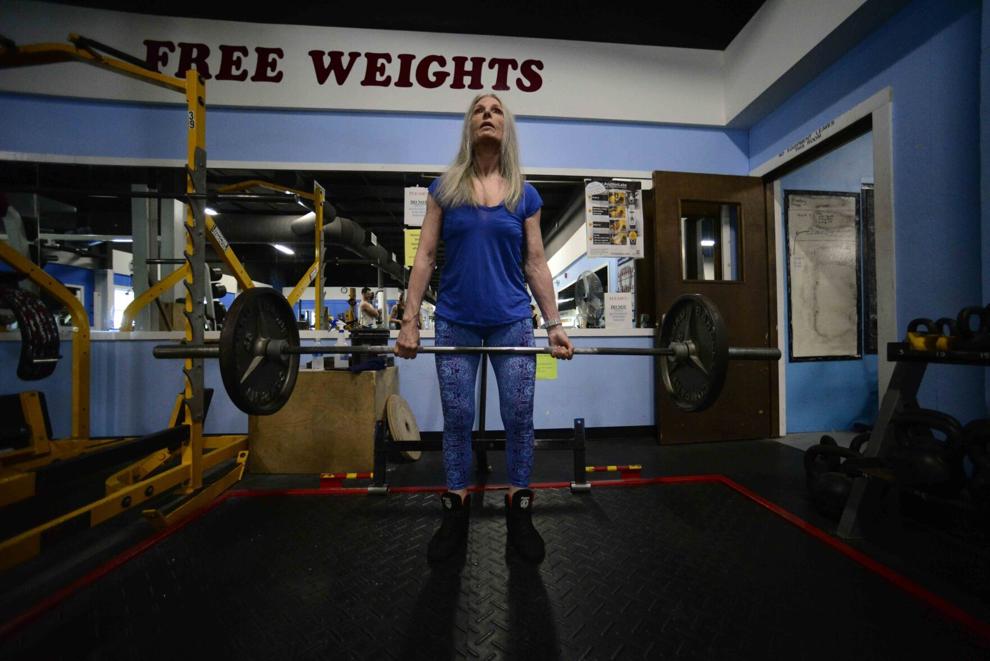 Fritz, similar to Olmstead, had been diagnosed with osteopenia going into osteoporosis. She began lifting at Supreme Fitness five years ago.
She had been lifting for a couple of years when Grant convinced her to attend a powerlifting competition at the age of 72. Fritz said Grant didn't think she would stay more than 10 minutes. Instead, Fritz became enthralled with the competition. Grant then asked her if she would like to compete. Though she had never considered it, Fritz, who is a vegan, competed. In her first competition, she set state and national records. In her second competition she set state, national and world records and in her third competition she set world records in deadlift and bench press for her class. Saturday will be Fritz's fourth competition and she is hoping to set a couple more world records.
Even though Fritz began lifting due to osteoporosis, she said the competitions, and striving to set records, are what keep her motivated.
"The best thing about having these competitions to go to (is) it gives you a place to go. It gives you something to train for," said Fritz. "Having something that you want to pull off is really different than doing something to problem solve your health situation. It's a really different energy, which has served me well, actually. So, every time there's a meet I just say yes because now I have another focus to go for and I want to beat what I did last time."
Then there is Graeme McGrath. He began lifting two and half years ago. He started off bodybuilding, but switched to powerlifting a year ago. "Switching from like bodybuilding to powerlifting was a huge change, but it's more fun. It's more rewarding," McGrath said.
This will be his first competition. Since he began training, he said he has doubled the amount of weight he has been able to lift in both deadlift and squat. While he hopes to take first place in the open class on Saturday, he is also there for the experience and determine if he wants to continue competing in powerlifting.
Bruce Berg, who is in his late 70s, will also be competing on Saturday.
Grant began powerlifting in 2001 after competing in her first bodybuilding competition in 2000. She was living in Greenfield, Mass. at the time and saw there was a team forming and decided to join.
She became a personal trainer at Supreme Fitness in 2004 before buying the gym in 2006. When she was still the personal trainer, competitions were being held at the gym and they have continued ever since. She believes they are beneficial to the community and encourages people to compete.
She believes part of the draw of powerlifting is that anyone can do it. It is also particularly beneficial for older people as a key to warding off osteoporosis, Grant said. More importantly, once people realize they can do it she believes that helps them stick with it. That is not the only reason though, Grant, and some of the competitors as well, believe it is the culture at Supreme Fitness.
"This gym I think is unique because everybody's backing each other," Grant said. "Everybody over there is just starting to cheer for everybody which is really fun. It's good camaraderie."
The 36th Annual Can-Am Powerlifting Championships is one event sanctioned by the American Powerlifting Association (APA). The APA is a leading powerlifting federation that provides lifters with the opportunity to showcase the efforts of their work through competition among the highest standards in the sport of powerlifting, according to the APA's website.