At the halfway point of the high school football season, Bennington County's two teams look like title contenders in their respective divisions this fall.
Entering Week 5, Burr and Burton (4-0) is one of just four remaining undefeated teams across all of Vermont and a real threat to make some noise in the Division I playoffs. Meanwhile, Mount Anthony (3-1) has had a unique start to its season, but the Patriots remain among the top of Division II.
The driving force behind the MAU success has been its offense. The Patriots are averaging 7.9 yards per play heading into Friday night's homecoming game against U-32. The Patriots have only played three games thanks to Spaulding's Week 2 forfeit, but their offense — and its depth has proven itself in all three contests.
MAU put the state on notice in Week 1 against Colchester, a former Division I program who dropped down to Division II this fall. It wasn't a warm welcome for the Lakers as MAU racked up 578 yards of offense on 64 plays, highlighted by senior running back and captain Ayman Naser's 259 combined yards and three touchdowns. MAU cruised to a 47-20 victory. Naser has maintained that high efficiency, totaling 471 yards of offense and seven touchdowns in just two and a half games.
In the following three weeks, we've learned that the Colchester defense appears to be the strength of its team. The Lakers haven't allowed a team to score more than 14 points since the Week 1 blowout. including a Week 4 12-7 victory over Division I Burlington/South Burlington.
Week 3 is the lone blemish on MAU's record at the midpoint in the regular season. Bellows Falls came to Bennington for a rematch of last year's Division II championship game, and left with a 28-13 win.
By far the lowest points MAU has scored in a game this season, the offense still had its opportunities. The Patriots accumulated 348 yards on 58 plays, but self-inflicted mistakes: turnovers and penalties, spelled trouble in the loss.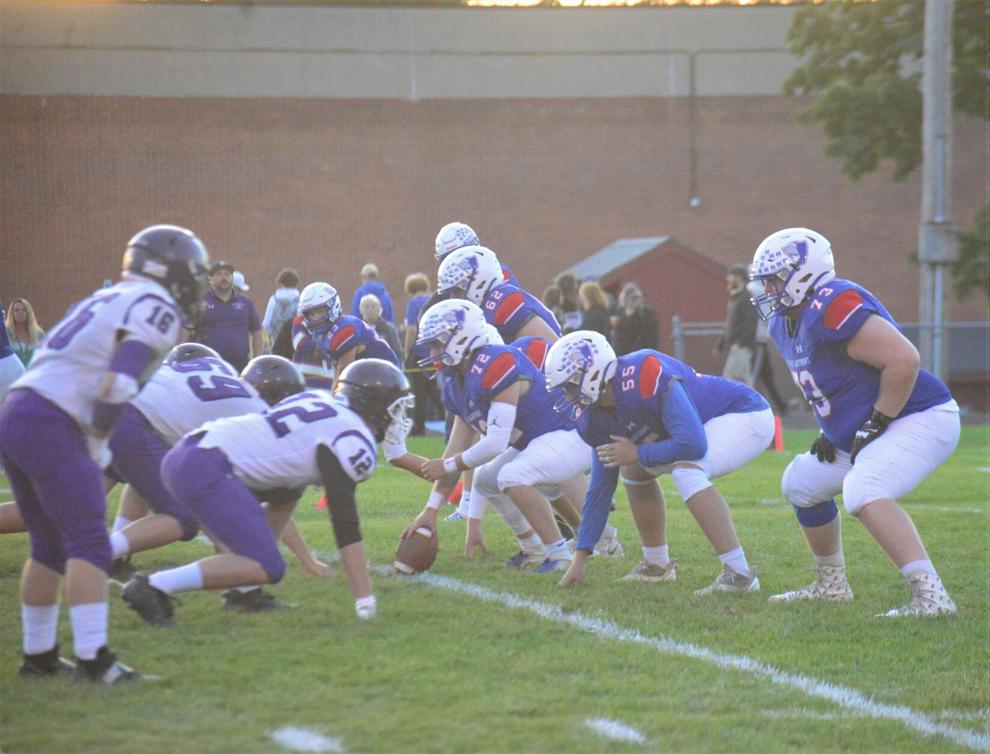 Week 3 flashed MAU's ability to air it out, as quarterback Tanner Bushee attempted 30 passes – more than double his combined attempts in Week 1 and Week 4.
He totaled 231 yards through the air, passed for two touchdowns but also had three interceptions.
With Naser wrongfully ejected from the contest just prior to halftime, Bushee turned to a pair of his trustworthy targets in tight end Braeden Billert (five catches, 61 yards, TD) and wide receiver Carter Thompson (11 catches, 150 yards) to help move the chains.
It wasn't enough to grab the win, but the MAU defense showed something in the loss. MAU held Bellows Falls to a season-low 28 points. The Patriots had more total offense in the game, holding the Terriers to 290 total yards.
It feels like if MAU can stay even in the turnover battle and correct the 100 yards of penalties it accumulated in the loss, a potential playoff rematch between these two contenders would be a lot closer.
Week 4 was MAU's best all-around team performance to date. The Patriots left Jericho with a 47-6 victory over Mount Mansfield, with the lone Cougars score coming in the fourth quarter and MAU already holding a convincing 47-0 lead.
The offense was clicking on all cylinders. Bushee displayed his dual-threat ability, with five carries for 75 yards and two touchdowns on the ground. He didn't need to air it out often, but still displayed his efficiency completing four of his six passes for 96 yards, two more scores and one interception.
Senior captain Josh Worthington also found the end zone, rushing seven times for 47 yards and one score. Worthington is a good change-of-pace back for Naser, and has added 136 rushing yards on just 13 touches so far.
The MAU defense shined in the win, forcing seven turnovers. Linebacker Aaron Johnson recovered two fumbles while defensive lineman Connor Barret fell on another.
Bushee, Naser, Brice Mailhot and Kaiden Mailhot each picked off the Cougars quarterback once.
The Patriots' plethora of offensive weapons are making it difficult for the opposition.
Bushee leads the MAU offense with 11 total touchdowns. He's passed for 546 yards and rushed for 205 more. If you game plan to slow him, Naser has shown he's capable of carrying the MAU offense. And don't forget about Thompson outside and Billert down the seam.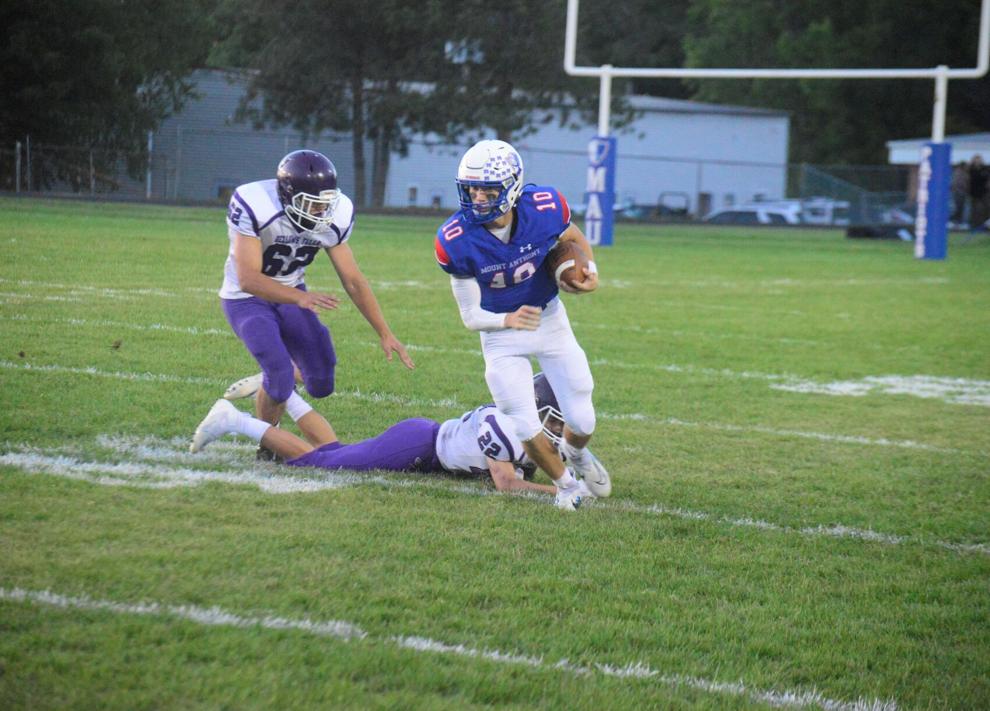 Week 5's homecoming against U-32 (0-4) on Friday night projects to be another offensive showing from MAU; the Raiders defense has allowed 35-plus points in each game this fall.
MAU currently sits in third place in Division II with 3.375 QPR (Quality Point Rating) behind a pair of undefeated squads in Bellows Falls (4-0, 5.25 QPR) and North Country (4-0, 4 QPR).
The Falcons host the Terriers on Friday night, which should provide some clarity atop the division.
The Patriots look like a team that can play with anyone across the division when they're firing on all cylinders, which has the makings of another playoff push later this fall.
For Friday night's MAU-U-32 game results, visit Benningtonbanner.com/sports.