MANCHESTER — Burr and Burton track celebrated a fair share of accolades during this winter's indoor season; two state champions, three athletes who qualified for the New England Championships and even a representative at the New Balance Nationals.
The work that the small pack of Bulldogs put in behind the scenes, however, is what makes those feats even more impressive.
BBA indoor track consisted of just five athletes. Other winter sports such as basketball, gymnastics and hockey play a part in BBA's small yet mighty track roster, but there's another key factor: facilities.
With no indoor track at the school, the Bulldogs were forced to get a bit creative with how they trained.
BBA sprinter Ben Dossett — who claimed the school's first-ever indoor track championship in the 55 meter dash Feb. 4 with his time of 6.76 seconds — made the 90-minute trek to the Saratoga, N.Y., YMCA multiple times a week to hone his craft. There's a 170-meter flat track on the top floor of the YMCA, and that's where Dossett would head two or three times a week after school to train.
"It's better than any of the facilities over here," the BBA junior said.
BBA's other state champion, Siobhan O'Keefe, said her training regime was "pretty similar" to the spring outdoor season, besides the amount of work the Vermont 3,000 meter gold-medal winner was forced to do on the treadmill.
"That was definitely a challenge," O'Keefe said.
Meanwhile Amelia Maier, who ran to a runner-up finish in the 300 and third in the 600 meters at the state meet, did a lot of her work in the gym.
"Mostly working on strength and power," she said. "I didn't do a whole lot of running."
Another obstacle the three, along with teammates Aiden McMahon and James Tudor, faced was the lack of a coach. The BBA athletes were on their own much of the winter, and even often entered meets by themselves. The lack of a support system was a major change from the outdoor season where there are dozens of classmates cheering them every single time they touch the track.
"I know track is an individual sport, but having a team was really, really important," Maier said. "The support and encouragement, the team aspect is really important. It was hard (not having that)."
O'Keefe echoed that sentiment and is excited to get back to a larger team atmosphere with the outdoor season.
"We're definitely all excited to have a real team back," she said. "I'm really excited to have that positive group dynamic I know we all love … . We're going into it so excited, so committed and ready to make it a great season."
Maier's favorite moment from this winter came during the state meet, where herself, O'Keefe, Dossett and McMahon were all competing in the same meet for the first time all season. Collectively, they had entered in seven different events over the prior month and a half, yet they had never all been at the same meet until Feb. 4.
A little bit of a uniform mishap at the meet signified how divided the Bulldogs had been all season.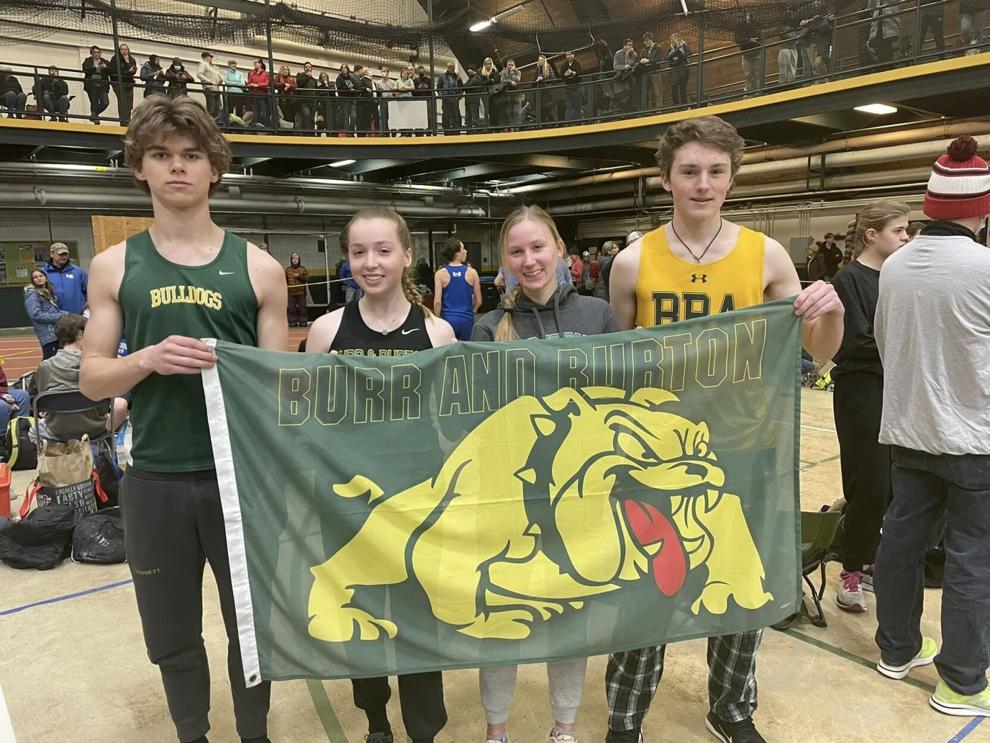 "It was kind of funny, we all lined up and we looked at each other and we all had different uniforms," Maier said. "This is what we look like, but we're here and we're all representing BBA."
They sure did represent BBA. Dossett became the first Bulldog to win an individual indoor state championship, an accomplishment he described as "dignifying and rewarding."
Dorsett, Maier and O'Keefe all qualified for the New England Championships, despite all the obstacles they endured throughout the winter.
"It's such a pleasure to be there and watch all the athletes compete, and compete in your own events," Maier said of New England's. "It's hard to place, but at the same time it doesn't matter because you're surrounded by a lot of amazing athletes."
O'Keefe represented the Bulldogs at New Balance Nationals, competing in the 3,000 meters, 3,200 meters and the 2-mile events.
"I didn't really expect to get there in the beginning of the season, it's my first time ever doing indoor track," O'Keefe said. "Being there and seeing all these other girls who were so amazing, and of course it's so hard to get there, it was really gratifying."
Now, BBA shifts its focus to the outdoor season with its first meet scheduled for April 8 at Mount Anthony. The Bulldogs are looking to carry the momentum from their strong winter into the spring season. The resilient bunch of student athletes hope this is just the beginning.
"It feels like this is something we're building," O'Keefe said.