BENNINGTON — Long bus rides tend to have a way of hampering how a team starts a game. It can be difficult after sitting on a bus for hours and then having to flip the switch once you step on the court.
Bree Mcdonald and the rest of the Burlington girls basketball team could care less about that narrative, and it showed in the first quarter of Wednesday's game against Mount Anthony at Kates Gym.
As the Seahorses secured the opening tip, Mcdonald sprinted to the right corner of the floor and the ball found her instantly. The Burlington freshman guard didn't hesitate, sinking a 3-pointer with just four ticks off the clock.
That set the tone as Burlington dominated the first quarter, building an insurmountable 26-2 over the opening eight minutes of play on its way to a 68-39 win over MAU.
Four Seahorses' reached double digits, led by Libby Westbrook's 13 points. Out of the 12 Burlington players who saw playing time, 11 scored.
The lone MAU basket in the first quarter was a midrange jumper from Taeya Guetti with 4:42 on the clock. That stopped a 14-0 Burlington run to begin the game.
The Patriots' offensive struggles continued into the second quarter, managing seven points as Burlington extended its lead to 39-9 by the half.
That's when MAU coach Larry Andrews challenged his team.
"It was our goal to win the second half."
The Patriots responded to the challenge, playing a much more competitive second half. Although Burlington sustained at least a 25 point advantage throughout the second half, MAU achieved its goal set by Andrews. The Patriots scored 30 second-half points, outscoring Burlington (29) by a single point.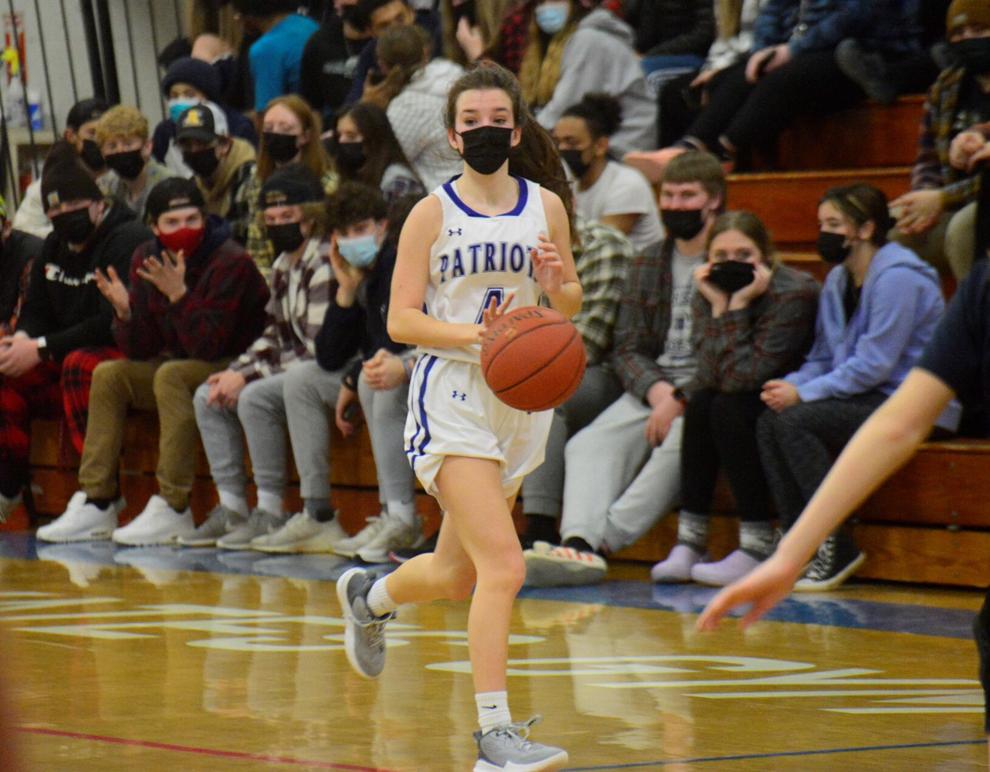 Madi Moore got things started with a 3-pointer a minute into the third quarter. She scored a team-high seven points, all of which came in the final two quarters.
Part of MAU's problem early was a lack of effort. The energy picked up after halftime.
"We talked about it at halftime because I didn't think we got the effort in the first half. I think we got a little bit better effort in the second half."
MAU's added effort translated into points. The Patriots started connecting from behind the arc, making five 3-pointers in the second half after only making one in the first half.
An encouraging sign for Andrews and the Patriots is that those six makes from deep came from five different players. Along with Moore, Allee George, Keely Greene and Regan Hurley all made one 3-pointer. Emily Elmer made two from behind the arc, both coming in the fourth quarter.
MAU will put the first half of Wednesday's game behind them, but Andrews hopes to build on what his team did in the final 16 minutes of action when the Patriots return to the court
"That's a little momentum, We'll take it into Saturday at Monument Mountain."