ARLINGTON — At the Arlington Recreation Park off of Route 7A on any particular spring afternoon, you are likely to see about 30 high school students and a handful of middle schoolers scattered about various stations. The kids are clearly organized, regimented and working towards something– but what?
You might not know it from the modest facilities at the small rural school but Arlington is a track and field school, and a quite good one.
Seth Woodman is in his eighth season in charge. It's his job to balance the challenge of staying competitive in Division IV with limited resources.
You'd be hard pressed to find a team across the state doing more with less. Nearly everything about Arlington's practice setup is makeshift.
There were nothing but smiles as the line of athletes practiced in the parking lot of the Rec Park on Thursday afternoon, getting a running start on the asphalt and diving over a makeshift string and safely onto the pads below. That's where the Eagles practice their high jump.
Everywhere you look, there are obstacles the Arlington athletes must adapt to and overcome to become the competitive program they currently are. Woodman pointed across the practice field and explained that a couple of hundred yards away from where he was standing used to be Arlington's practice area for throwers. What forced the relocation? A dog park now occupies that area of the park.
The makeshift gear extends beyond just the field events. Maria O'Dea wanted to practice hurdles last season and at the time Arlington didn't have any, so Woodman improvised. He bought PVC pipe from Home Depot and constructed hurdles himself for her to practice on.
"She wanted to hurdle so badly that we had to have these bootleg hurdles where if you hit them wrong once, they fall apart," Woodman said.
"It was just extra motivation to clear them," O'Dea joked.
Arlington has since purchased some discounted hurdles from Mount Anthony.
Woodman and his team told all of the stories with a laugh. It's certainly not hard to find the humor in the situation. However, it also speaks to the dedication and resiliency that is present. The lack of formal facilities makes for a culture where anyone that is there, truly wants to be there and be part of it, and the atmosphere around the team reflects it.
The Arlington coach was very humble about his role in all that the team has accomplished under his watch, quick to give much of the credit to Arlington's administration and parents for their support and contributions.
"It takes a village, you know?"
He's exceedingly grateful to the many coaches in the area that have helped out the program with other events he isn't as knowledgeable on. He specifically gave thanks to Julia Arduini, Matt Kuja and Caleb Wiley of Burr and Burton, as well as former Mount Anthony track coach Amanda Mullen.
The SuccessIt may be hard to believe, but state record holders have developed through these bare-bones practice setups.
Arlington's Lilah Ward broke the D-IV record in the high jump in 2019, reaching 5' to clinch the state title.
The Eagles track program is making no excuses, they'd rather get to work and let the results speak for themselves; and those results are awfully impressive. In the past three track seasons dating back to 2018, Arlington has racked up a combined 14 individual and relay state titles.
The success has continued in 2022 despite the obstacles.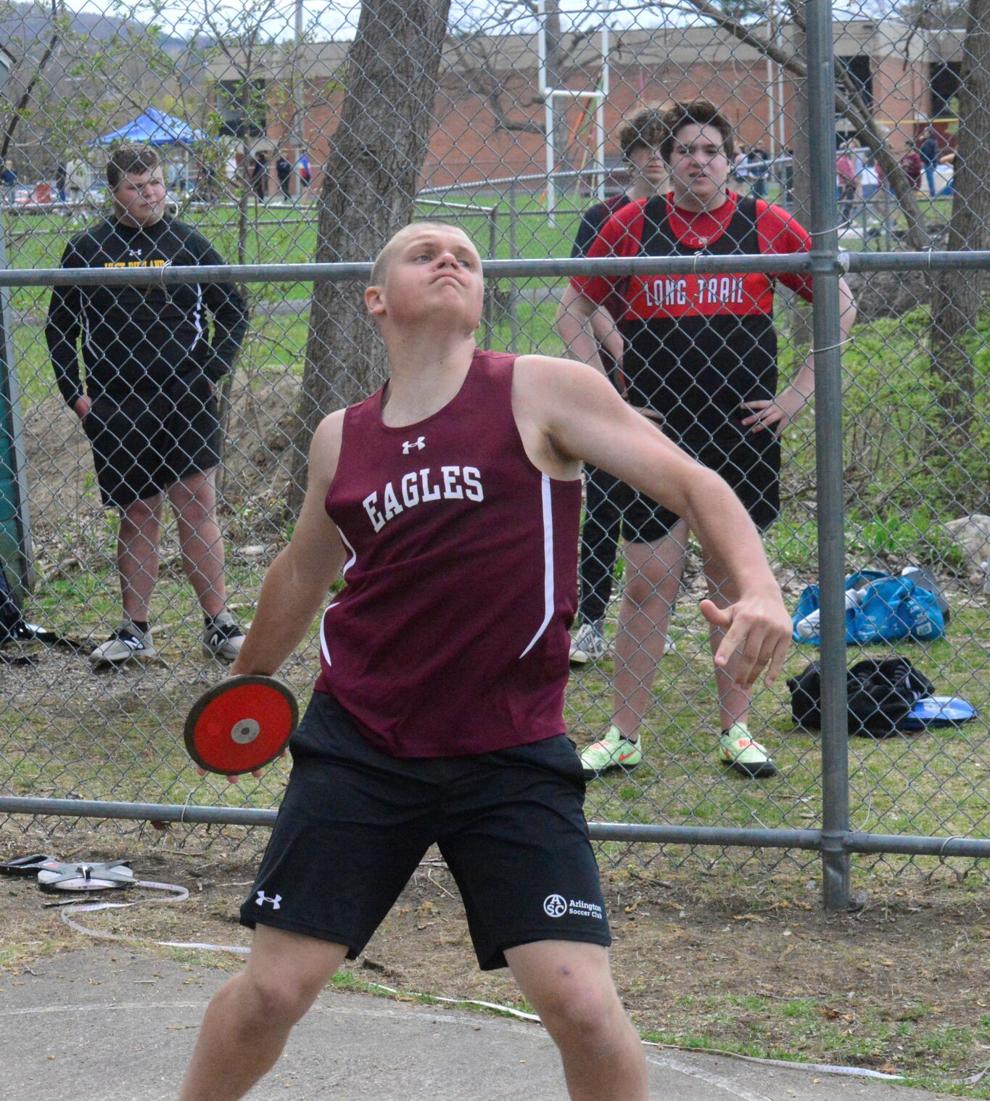 Sophomore Owen Emmons is the current Division IV leader and fifth in the entire state in the 100 meter dash at a lightning-fast 11.44 seconds. Kyle Hess, who also plays baseball in the spring, is top five in the division for the event, himself.
Sarah Tilley does a little bit of everything for the team, currently ranked third in the triple jump, she is also top 10 in the 200 meter and 400 meter runs, and the long jump. She is also one leg of the Eagles' third-ranked 4x100 relay team, along with Montaine Artieres, Grace Diedrich and Sidney Herrington. Herrington also just placed second in the high jump in her very first crack at it during Tuesday's meet in Manchester.
Building a programAnyone who spends time around youth sports these days knows that participation is generally declining. So in a high school with an enrollment of just over 100 students, his roster of 30 is impressive.
Woodman credits the athletes.
"The kids do all the recruiting," he said, in between giving instruction to his high jumpers during practice on Thursday afternoon. "You don't have to do much when the kids do it for you."
That seems to be a prevailing spirit throughout the team. There's an enthusiastic willingness to try new things and to help one another.
Woodman walked over to a handful of athletes working on what is his forte, the throwing events. There practiced Denita Moore, last year's state champion in the discus. She currently holds the Division IV state record at 100 feet, 9.5 inches, and has her sights set on more.
"My goal for her is 115," Woodman said
Moore, laughing out of modesty, stopped him short to emphasize, "My goal is 110!"
Moore is definitely grateful for the encouragement.
"I'm very glad to have a coach like that to help me with the little things," she said.
Moore seems destined for big things this year and in the future. With this being just her second year competing, the senior has her eyes on attending Castleton or MCLA next year.
Then there's seniors Emma Hoover and O'Dea, who have been with the program all four years.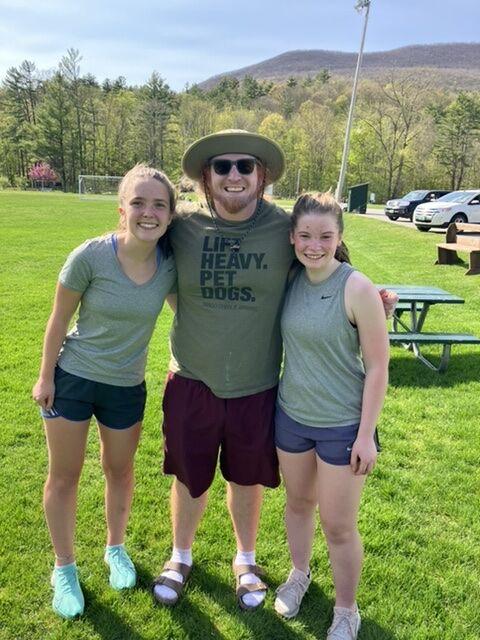 "These guys, Andy (Petry), Denita, Sara Tilley… I wouldn't be able to do half of what I do without them. They're like mini-coaches."
Woodman and his seniors were nostalgic in recounting everything they've accomplished with their limited resources.
"I think we didn't even have the (high jump) mats at one point," O'Dea explained. "We just drew a line of chalk on the pavement and pretended that was a jump."
Woodman, who also teaches history at Arlington, kept expressing his appreciation for the special group that he's developed.
"This year has been pretty easily my favorite year to coach…" Woodman said. "Normally, I go to a meet, and I used to have to be like 'guys, get out of the tent.' And this year, I go to the tent and there's nobody there and they're all at the finish line cheering everybody on."
"(This year) it's just the things that matter. The building community, the being a good teammate, the caring about each other, and these guys have that in spades."
Recent championsIn 2018 it was Tess Belnap claiming three individual state championships: the 100 meter hurdles, 300 meter hurdles and long jump.
Belnap was also part of the state champion 4x400 girls relay team. The other members of the Eagles relay were: Jamie Keel, Katie Berger and Aimee Frank.
Keel won the 800 meter race, as well and Ward snagged the high jump state title.
The Eagles celebrated five more state championships the following spring. Along with Ward's record-breaking high jump, Dominic Whalen nabbed the 3000 and 1500 meter state titles.
In the 4x800 relay he teamed up with his brother Lewis Whalen, Gabe Enzensperger and Fausto Pinto Cabrera for the state title.
Chase Hoyt also claimed victory in the 110 meter hurdles.
Then in 2021 the Whalen brothers brought back a few more state titles to Arlington: Dominic in the 800 and Lewis in the 400.
The boys 4x100 relay team of Kyle Hess, Nikolas Palfavi, Whalen and Owen Emmons were first to cross the finish line. Finally, Denita Moore was the 2021 state champion in girls discus.
Vermont News & Media sports editor Michael Mawson contributed to this story.