Almost a year ago I began this Vermont Outside In column with a profile of Dickie Davis, a native Vermonter who worked decades at Orvis and strolled home some evenings, flyfishing the Battenkill. To me, someone from outside Vermont trying to grasp the inner nature of this alluring and elusive state, he is a quintessential Vermonter.
Now for this column I'm profiling four young women who suggest a Vermont of the future. These women play for the local soccer team, which is not called the Maple Leafs or the Anglers, but instead the Vermont Fusion, a name chosen in 2009 to represent the fusing of two teams. Its logo depicts atoms whizzing around in neat symmetry summoning up a clean, elemental future. Not Manchester, but Vermont Fusion: Why not embrace the whole state? How many other professional or semi-professional teams do we have?
The players give the team its identity. True, of any sports team, of course. But think of this wonderful paradox: the players on last year's Boston Red Sox are not the same as this year's, yet the Red Sox as a team have an ongoing identity established decades ago. Left fielder and DH Masataka Yoshida, for example, is new this year. He comes in from Japan. The identity of the Red Sox as a team goes on, incorporating Yoshida, and his feats, in turn, ever so slightly change the identity of the team.
So, too, the wonderful influx of players create the Vermont Fusion's identity. In turn, as the team resonates with the town, new players and old subtly but unmistakably alter Manchester's sense of identity. This is especially true since Manchester is small, players are a larger percentage of the people here.
Here are profiles of four of these players:
Blessing Kingsley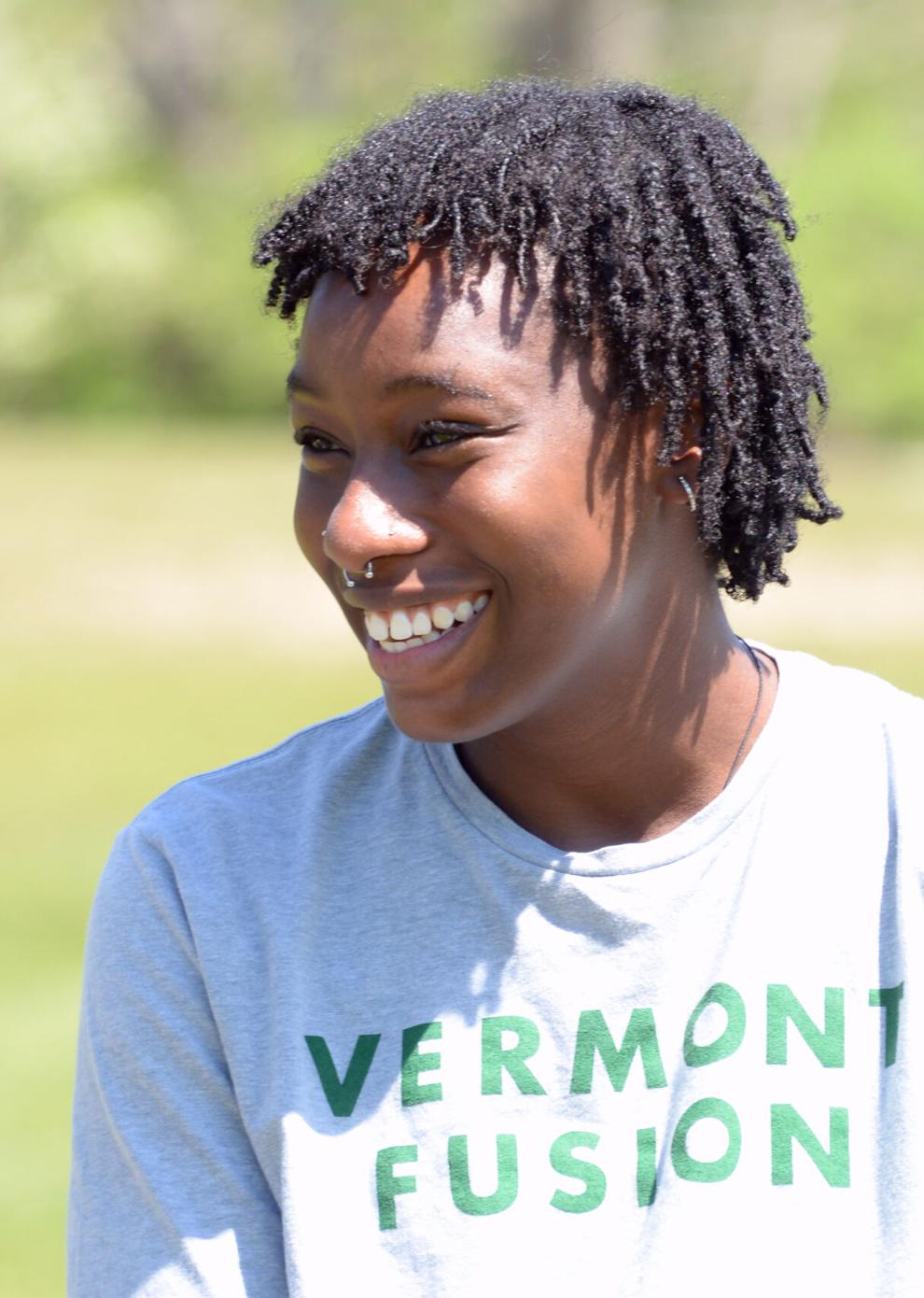 Blessing grew up in Carlow, Ireland, where she played for the local team as well as the national Irish team. Southern Mississippi University recruited her, and she enrolled, since the coach had a plan for her "to get to the next level and hopefully play pro one day," ideally for a team in England. "Chelsea are pretty good. Chelsea are killing it right now. I'd like to go there, " Blessing says. (By the way, in British and Irish English, a group takes a plural verb — "a team are killing it," "the band are on tour.")
Last year she joined two teammates from Southern Mississippi in coming up and playing for Fusion. No matter where she plays — Ireland, Mississippi or Vermont "I'm gonna have fun. The energy here is pure fun. It reminds me of when I started playing as a kid."
With nine goals in 2022, she was the leading scorer, giving her a measure of fame in town. "You walk down the street and there are kids saying, 'hi--good game last week!' You really do feel a part of the community….You're having a great experience off the field, you're having a great experience on the field."
Blessing's Nigerian roots and cosmopolitan history create a complex identity. "Identity is always something I've had to struggle with growing up. I have the Nigerian side of me, and I have the Irish side of me. But basically, I think the Irish people--you can spot one from a mile away." She refers to a Gaelic word--a challenge to translate, but a culture-based word for fun: "it's all about the craic, it's all about the energy," Blessing says. "There's a connection you get that you can't really replace. And I think Vermonters feel that, too, in a way. When you see another Vermonter, you feel that connection."
Elis "Tarzi" Klein-Spindola
As a girl living in Germany with Brazilian roots, Tarzi found her friends couldn't pronounce her first name--Elis. Since she had thick dark hair and was always chasing up trees to retrieve soccer balls, friends started calling her Tarzi--a variation of Tarzan--and the name stuck.
Like Blessing, she has crossed borders to arrive here, playing soccer with Blessing in Mississippi before transferring to Youngstown State in Ohio.
She found playing in the US "more professional."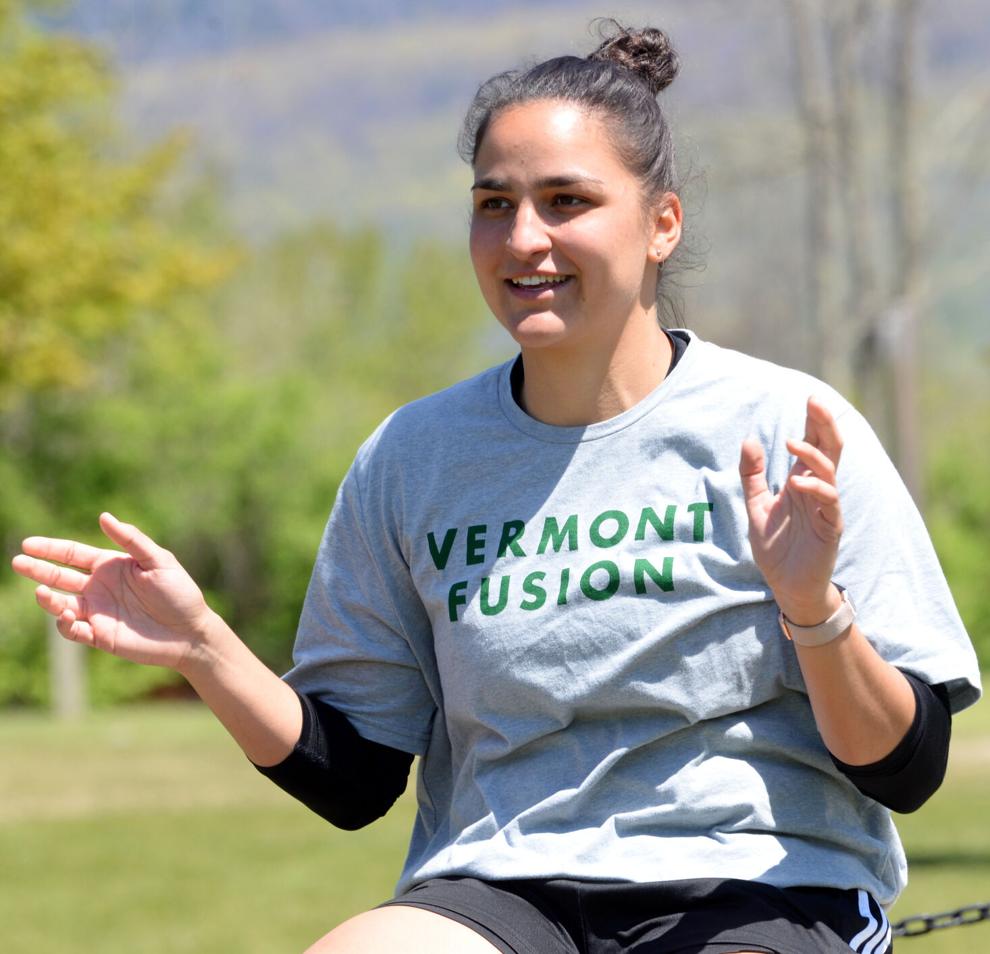 "We practice more here and the sessions are longer. The coaching staff is way bigger, [compared to teams at this level in Germany]. We live with the team. I never lived with the team in Germany." She finds college soccer "really competitive." She contrasts that with playing for the Fusion. "We still want to win, but it's so much fun--no pressure at all." Like Blessing, she thinks playing for the Fusion recalls the zest and fun she felt when playing as a girl.
Last year, she played center back, because the team needed that position filled, but this year she's playing forward, her usual position.
She found a strong connection in the town — from the games and from the camps where she coached local children. "I would walk around town and kids would say, "You play for Fusion."
She notices cultural differences, for example, Germans would never eat off of plastic plates (as she saw often in Mississippi, even at Thanksgiving). Germans would walk less than a mile down to a store; Americans would drive. (Teammates even would say, "walking is dangerous.") In Mississippi, people seem unaware of the Russian-Ukrainian war; in Vermont, she sees Ukrainian flags dotting the landscape.
She calls herself a part-time Vermonter, laughingly comparing herself to people with the big homes who drop by for several visits yearly.
She finds Vermonters "open-minded." For example, "last year a woman asked, 'Do you have a boyfriend?' and then she stopped and said, 'why did I say boyfriend? Girlfriend or boyfriend?' I wasn't used to that in Mississippi. Everyone just assumes." She noted the big Pride Game that the team had here in Manchester last year and one that's being scheduled for this year.
Elsa Bolinger
Elsa grew up along the Connecticut River and attended the first interstate school district in the United States. Growing up on the New Hampshire side, she studied with kids from Norwich, Vermont. Asked if she sees a difference, Else says, "I totally think there is…They [Vermonters] had more of a sense of pride centered on their state." They had more "appreciation of things that matter," especially related to the environment.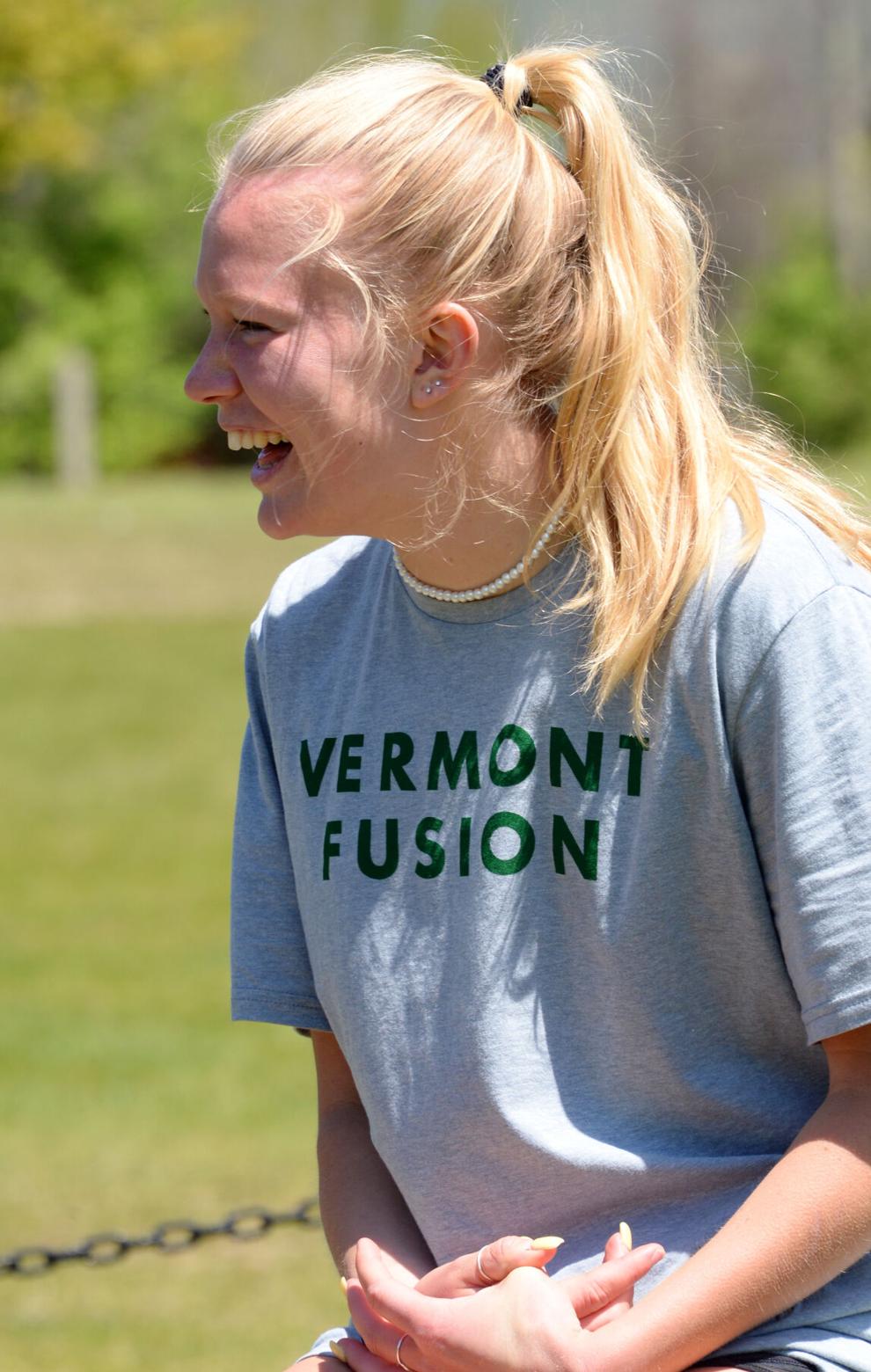 She attends Middlebury College, where she plays soccer. Elsa feels part of the culture of Middlebury. One of my professors "loves all things Vermont--and did everything he could to instill this love of Vermont--which is cool." Middlebury "doesn't have any international players, so that's something that makes this team [Fusion] really cool."
She's new to the Fusion this year. A defender, she's not planning on playing professionally. "A lot of girls really commit so much to soccer, and I haven't really done that," she says. She also loves hiking, bike riding, and skiing.
Olivia White
Olivia grew up in Pittsford, Vermont north of Rutland. She plays left back for the Fusion and for the soccer team at the University of Vermont, where she is a pre-Physician Assistant student.
As a child, she traveled from Vermont to Massachusetts--hours in transit — 3 or 4 times a week to play soccer. Her team played in New Jersey, New York, California, and Florida. With such dedication, she dreams of playing professionally, but she's guarded, realizing the long odds: "If an overseas opportunity were to pop up, I would most likely take it." The Fusion's success increases her chances: "Finishing fourth in the country last year [as the Fusion did]--that puts your name on the board."
"Vermont has never had anything like this--especially for girls," she says. "That's why I left Vermont to play soccer [competitively], because Vermont never had anything like this." And that's why she left her old summer team in Massachusetts to come play for the Fusion.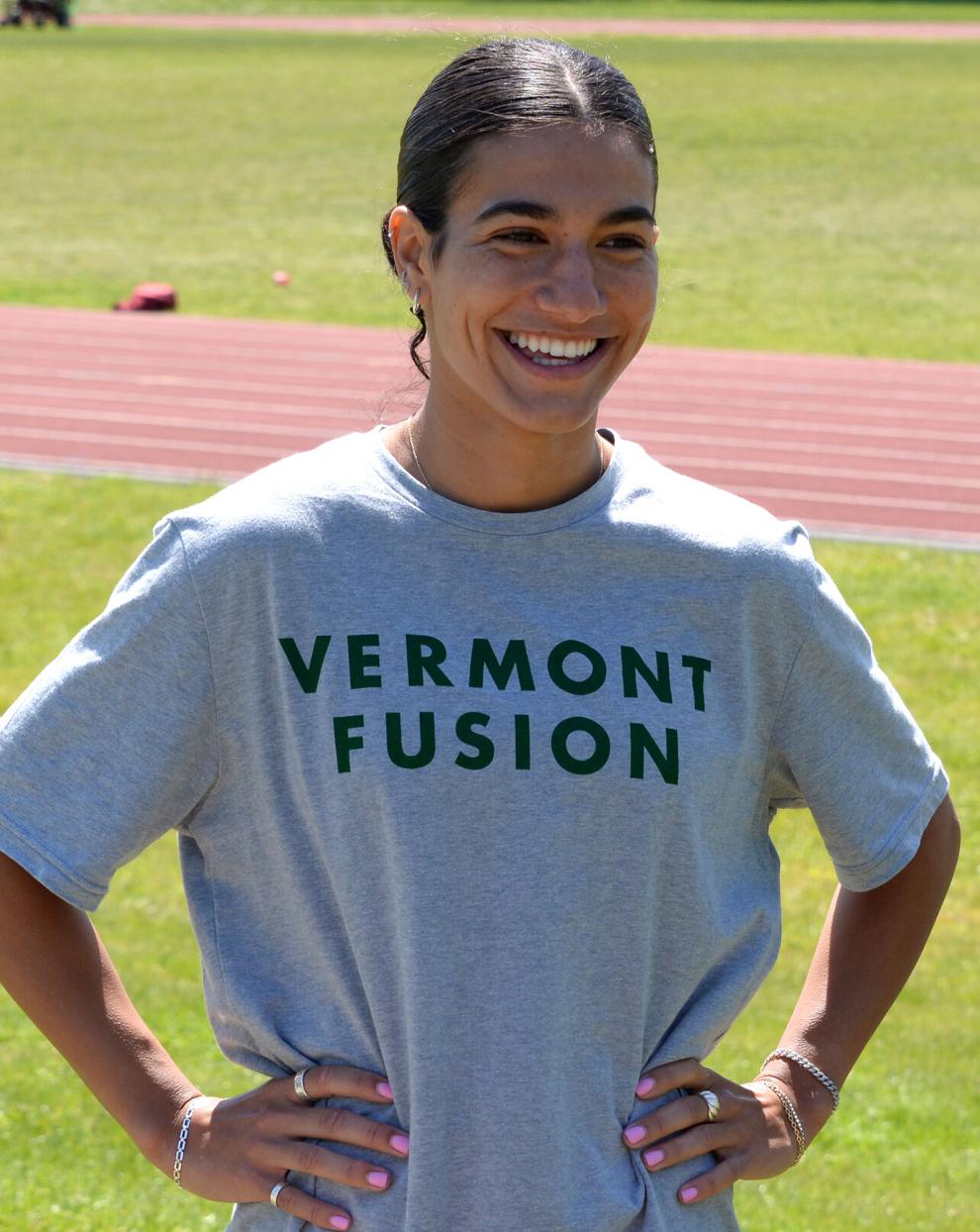 "After our games, we would have all these little girls coming and screaming and wanting our autographs. It's a great feeling. Being a Vermonter and playing for UVM, I love supporting my home state. I love that Fusion is here. It's great for the community."
Olivia's cheerful optimism and boundless support for the state is grounded. She talks about growing up in rural Vermont as a person of color. "There were moments where I'd get some names thrown at me. I can stick up for myself. I'd throw some names back. My parents had to go into the school…And [the problem] stopped. These redneck boys were saying things, they got in trouble, -and it stopped….Here and in Burlington people are accepting, they go with the flow…. It's great to have people speaking Spanish coming in. [Diversity] is something that Vermont needs," and she sees the diversity of the Fusion as contributing.
If the team needs a player to expound at a podium for a while, Olivia is a great choice. I'll give her the last words:
'Vermont is a slow-paced state in a very fast paced country--which I love. Everyday it's like a getaway in Vermont. I love Vermont." She smiles. "I love Vermont."
"Vermont's great, Vermont's great."