MONTPELIER — Gov. Phil Scott on Tuesday announced his Vermont Forward Plan, setting forth a schedule for reopening sectors of the economy over the next three months based on COVID-19 vaccination milestones.
"Think of this as a roadmap for the rest of the three months, as the vaccines make it possible to help get us back to something more normal," Scott said at Tuesday's twice weekly news conference on the state's response to the COVID-19 pandemic.
The plan, which can be found on vermont.gov, moves sectors of the economy from specific to universal guidance and changes travel restrictions. Lindsay Kurrle, secretary of the Vermont Agency of Commerce and Community Development, said the five main tenets of the universal guidance involve staying home when sick, wearing masks, ensuring 6 feet of space and uncrowded places, practicing good hygiene, and knowing about travel restrictions.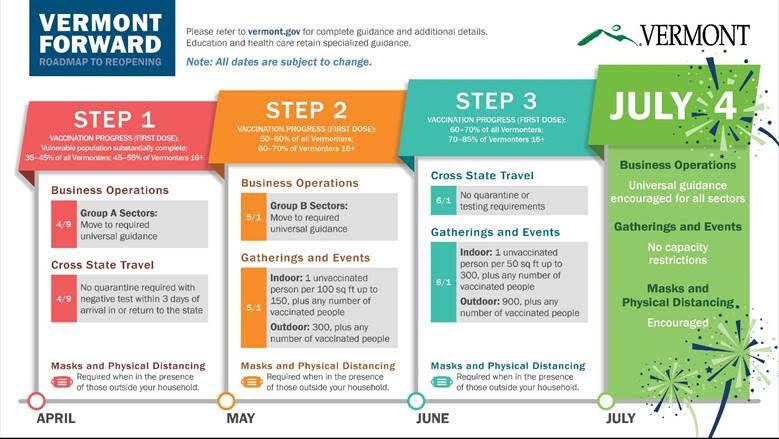 Group A — which can move to universal guidance Friday — includes outdoor businesses, outdoor recreation and fitness, low- or no-contact professional services, farmers markets, retail operations, lodging establishments and campgrounds. Group B — which can move to universal guidance May 1 — includes manufacturers, distributors, restaurants, social clubs, caterers, food service operations, hair salons, barbers, spas, nail salons, gyms, fitness centers, indoor arts and entertainment venues, and meetings of public bodies.
"Some businesses may want to put measures in place that go further than the universal guidance or address specific safety needs that are unique to their establishment," Kurrle said. "This is their right to do so."
Effective Friday, no quarantine will be required for someone who tests negative for COVID-19 within three days of arriving or returning to Vermont. Those who are vaccinated can travel without restrictions.
Starting in May, indoor events and gatherings can have one unvaccinated person for every 100 square feet and as many as 150 unvaccinated people plus any number of vaccinated people. Outdoor events and gatherings can have as many as 300 unvaccinated people with no limit on the number of those who are vaccinated.
In June, indoor gatherings can have one unvaccinated person for every 50 square feet and as many as 300 unvaccinated people plus any number of vaccinated people. Outdoor gatherings can have as many as 900 unvaccinated people and any number of those who are vaccinated.
Kurrle said the hope is that graduation ceremonies can be held in some capacity and event planners will have some confidence in scheduling. She stressed that universal guidance will be mandatory at events and gatherings until July 4.
Having three safe and effective vaccines available has provided some predictability and ability to forecast vaccination milestones, Scott said. He noted expanded testing and contact tracing also are helping.
Within two weeks, Scott said, all Vermonters 16 and older will be eligible for COVID-19 vaccinations. But he warned that dates of the reopening plan are subject to change based on circumstances.
The majority of Vermonters 30 and older should be vaccinated by May, Scott said. He expects by June, all adult Vermonters who want to be vaccinated will have the opportunity.
By July 4, universal guidance is anticipated to be encouraged rather than required.
Michael Pieciak, commissioner of the Department of Financial Regulation, said the state is continuing to see higher case counts driven by cases among younger Vermonters. The state recorded 1,231 cases last week, an increase of 41 from the prior week and the highest weekly total to date.
Two of the four outbreaks in long-term care facilities in Vermont are in Bennington, with 10 cases at the Vermont Veterans' Home and six at Rivers Edge Community Care Home. An outbreak in such facilities is defined as "a situation where two or more residents or staff members with COVID-19 have known connections to each other in the facility setting."
Vermont attributed three deaths to the virus last week, which is one less than the prior week and two less than the week before. The state has reported 229 COVID-related deaths altogether.