BENNINGTON — In all her years as the advisor of The Patriot Players, Lynn Sweet, the Mount Anthony Union High School drama club director, has never had to be more creative to get a fall production off the ground.
Brainstorming ideas, Sweet eventually came up with the idea to do a radio show version of It's A Wonderful Life — and the show, done completely virtual over Zoom, will air on both Christmas Day and Dec. 26.
"So it became pretty obvious over the spring and summer that we weren't going to be able to do our typical fall musical extravaganza," Sweet said. "I had to start thinking of some alternative ways to keep the kids excited and engaged. And I don't know when it hit me, but at some point, the idea of a radio show seemed like it might be a really good thing because we knew that we wouldn't be able to have a live audience."
The radio show idea ended up being a good one because of the extended time needed to put it together. In a usual year, the curtain usually goes up on the fall production at the beginning of November.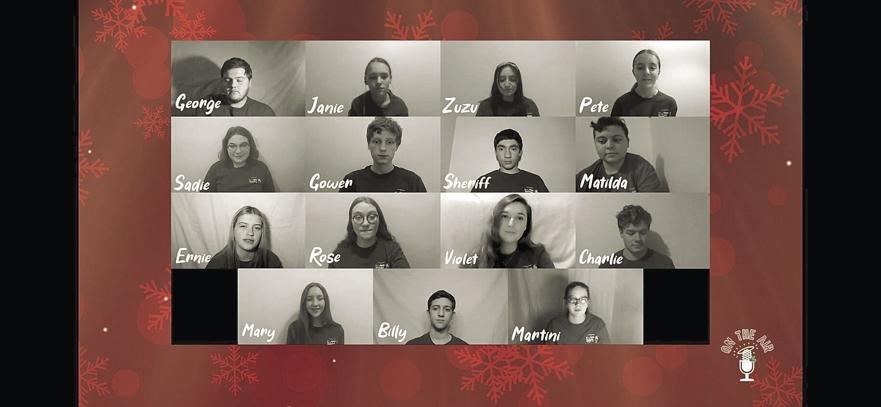 "Something around the holidays seemed like it might be a good fit," Sweet said. "It's a wonderful story. The kids really seem to relate to it. So we just decided to give it a shot. We've never done anything like this before."
She was able to get together with the cast for a few weeks in October.
"We were fortunate that we got started with this in October, so the weather was still reasonable and we were able to meet in person in our school courtyard for a few weeks," Sweet said. "The first couple of weeks, it was just like improv and activities just to kind of reconnect the kids. But then once we decided officially that we were going to try to do this show we started doing auditions."
Some auditions were in person, most were on Zoom. Sweet said there wasn't a lot of rehearsal — a couple of readings and then filming began in the beginning of December.
"We basically set a start date and every day for two weeks we met on Zoom for about two hours," said Sweet, who is also a choral teacher at MAUHS. "And the kids had to be sure that they were in the same spot and that they were wearing their show T-shirt and that their hair and makeup was the same so that it would look like we had done it all at once."
It was a challenge, one that the kids passed with flying colors.
"Every day the kids would get finished with their classes, set up for their zoom recording session and we would meet," Sweet said. "We worked through all of the details of hiding non-video participants and trying to figure out how to get the kids visible. It was quite a process very different from our normal rehearsal process."
As the scenes started to come together, Sweet would submit them to Mike Cutler at CAT-TV to edit. The show will run about one hour and 45 minutes, Sweet said.
"Mike is one of our drama club advisors this year. I knew I was going to need some additional technical assistance, so we brought Mike in and he edited the scenes all together," Sweet said. "Then he sent it back to me and my husband, Spencer, who then added in all of the sound effects and music."
In all, about 30 students were a part of the production — about 25 on screen and five or six others that participated in the sound effect process and stayed offscreen. The number of students participating overall was smaller then in past years.
"The kids made most of the sound effects, like car horns honking and walking through the snow, different things like that," Sweet said. "So that was a neat part of the process for the kids who didn't want to be on film."
The original plan was to air the production last weekend, the 18th and 19th of December. But some of the production aspects took longer to deal with, including working with a new online streaming company.
"So the company that hosts it is Broadway on Demand and they said, what if you [ran it] on the 25th and 26th?" Sweet said. "I thought that would actually be perfect because I would never normally do a show or concert on Christmas Day, but it's a good time for the kids because they'll be home with their families and they can watch in the comfort of their own home."
To watch the production, you have to sign up for a free account, but the cost is $5 for a single stream and $20 for a household stream. Visit https://tinyurl.com/y7mf725u.