POWNAL — The beginning of the end of a two-decade-long wait arrived Thursday, as an excavator broke ground for the new Pownal town hall building on Center Street.
Around 8 a.m., under sunny skies, Mike Connors of East Dorset maneuvered the bucket of his bright yellow John Deere excavator to take a bite out of the sodden ground, officially launching the construction project. There was no formal ceremony.
"It's been a long time coming," Mike Gardner, vice chair of the Select Board, said Wednesday. "Finally, there's a machine putting a bucket in the ground."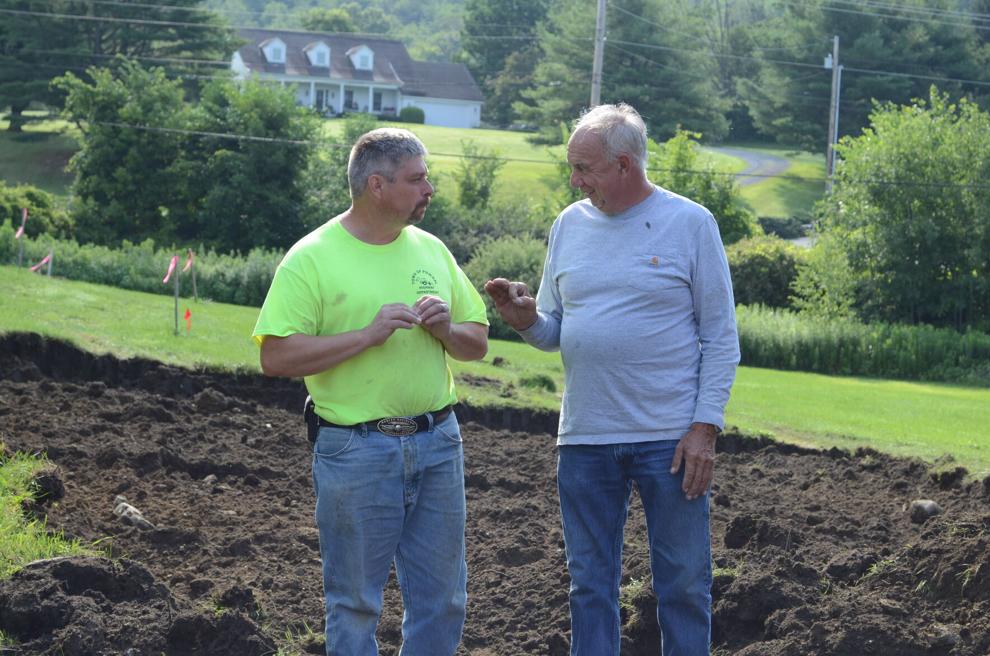 The new building, which carries a price tag of $865,000, will replace the current, cramped office building on a nearby site.
Construction will be done in two phases. A partial opening of the building is planned in the fall, with construction expected to be completed in early 2022. The project calls for attaching modular sections to a circa-1840s Pownal schoolhouse building, which will be moved from nearby North Pownal Road.
After the excavation is complete, a concrete foundation will be poured, with the modular units expected to be in place by Aug. 31, Gardner said.
Gardner said the town's project management team met with all but one of the subcontractors on Wednesday, and learned that everything is on schedule.
"We're going to be on target for that (Aug. 31) date as of now," he said.
Gardner said it's "hard to tell" if the project will be completed within its budget, with the unexpected rise in the price of building materials, but noted that the concrete work came in under budget, even though "the price per yard (of concrete) has gone up considerably."
Century Concrete of Shaftsbury is doing the concrete work. Other subcontractors represented at Wednesday's meeting included Hos Cot Builders, electrician Stanley Kelson and plumber Rick Bartholdi.
The town is acting as its own general contractor and project coordinator. Its management team includes Gardner, Executive Assistant Tim Darter, builders Eric Marceau and Aaron Gilbert, and Town Agent Rebecca Dragon. Town voters approved a $600,000 bond for the project in March. An existing new town office fund will provide an additional $175,000, with another $90,000 drawn from undesignated surplus funds in the town budget.
The town has been discussing a new town office building for about 20 years and considered and rejected several other proposals.