BENNINGTON — On Nov. 13, just two weeks before the Thanksgiving holiday, Gov. Phil Scott implemented temporary restrictions on social gatherings and business operations, including the prohibition of private multi-household social gatherings, to help slow the spread of the coronavirus.
Amid the global pandemic, everyone in Bennington County, from restaurant owners to medical providers to innkeepers, is adapting to this new way of celebrating the holidays. Here are some of their stories.
SMALLER TABLE, SMALLER TURKEY
Every year, Someday Farm in East Dorset raises between 300 to 450 holiday turkeys, with this year being no exception. But with smaller Thanksgiving gatherings, customers are asking for smaller birds.
While approximately a third of customers have requested a smaller bird, Someday Farm's turkeys were still growing as of last week. The birds go through a pound of grain a day and roam around the pasture where they eat soil bits and snow.
"Our average-sized bird is 18 pounds, that's usually what people want. Right now, people are wanting 10 to 12-pound birds. We have to say we're still growing out these birds and they're incredibly healthy," farm caretaker Scout Palmedo-Proft said. "Some farmers might just stop growing them, but that's not our philosophy. We're trying to give them the best diet and life possible."
She recommends freezing the fresh meat or donating it to those in need.
"They're still growing out there in the fields. We want to make sure we respect the farmers and the end product," Palmedo-Proft said.
The farm sells out their turkeys every year and feeds approximately 6,000 people with the 400 turkeys they raise. They also work with churches in the Manchester area to provide turkeys for those who can't afford them.
The farm has been raising and processing holiday turkeys for the past 30 years, with some customers traveling all the way from Maryland to pick up their birds.
"We do everything. We grow them, we process them with all our friends and family in our state-inspected processing plant and then people come from all over to pick up their birds," Palmedo-Proft said.
Raising the birds is costly with 400 turkeys going through about $10,000 worth of grain. Growing the birds also takes help from other local businesses. During processing and distribution, the farm spends $900 on ice from Rutland to cool the turkeys down and buys sawdust and woodchips from local landscapers.
"It's cool how many people are involved in getting that turkey onto your table," Palmedo-Proft said.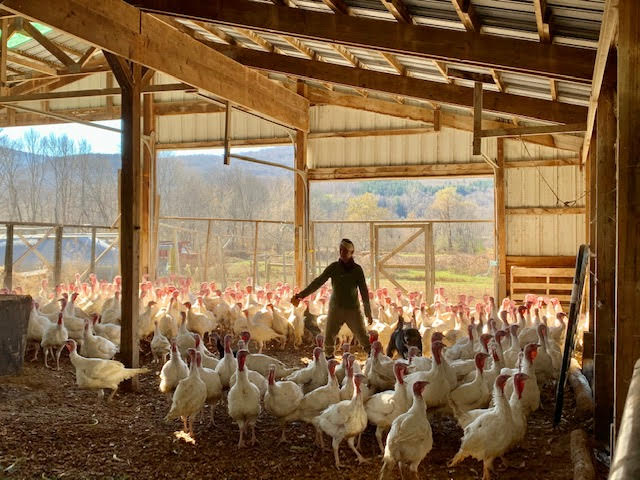 The farm has been in her family for 80 years, and has one of the oldest share programs with Northeast Organic Farming Association of Vermont, established in 1989.
As community-supported agriculture, Someday Farm needs to let its customers see where their birds are coming from and who is raising them, Palmedo-Proft said. This personal farm-to-table experience is what keeps customers coming back, with 75 percent of the farm's customers being repeats.
"We're so proud of what we're growing here. We've never lost a customer unless they've died," she quipped.
For Palmedo-Proft and the farm Thanksgiving, or what they call Harvest Dinner, is an opportunity to appreciate local farms and produce.
"Often people's tables are filled with foods that are local and foods that are in season. Yes, it's about giving thanks, but it's also a reminder of the bounty that our local farms produce for us," she said.
A 'CAREGIVER'S PERSPECTIVE'
On most Thanksgivings, hospitalist Ann Marie Swann, MD, would be found working her shift at Southwestern Vermont Medical Center. This year she will spend the day at home with her family.
Swann takes care of people admitted into the hospital including in-patients who are COVID positive or pending COVID positive.
"The hospital has been so great the whole time making our safety as caregivers the priority. We have the proper PPE and change our scrubs," Swann said.
But despite safety precautions at the hospital, Swann says that the lingering thought of possibly infecting her family is constantly in the back of her mind. She changes out of her clothes when she gets home and washes her hands.
In previous years, Swann and her family visited family in eastern Massachusetts for Thanksgiving. She comes from a big family with five brothers and five sisters where she says a small family gathering starts at 20.
"I realized before the restrictions came down, that we weren't going to go anywhere [for Thanksgiving] because of the concern I had from a caregiver's perspective," she said.
This year she and her family will be participating in a virtual Turkey Trot with her siblings across the country.
"Everyone will be in charge of a dish so that we all will contribute to the little family dinner," said Swann.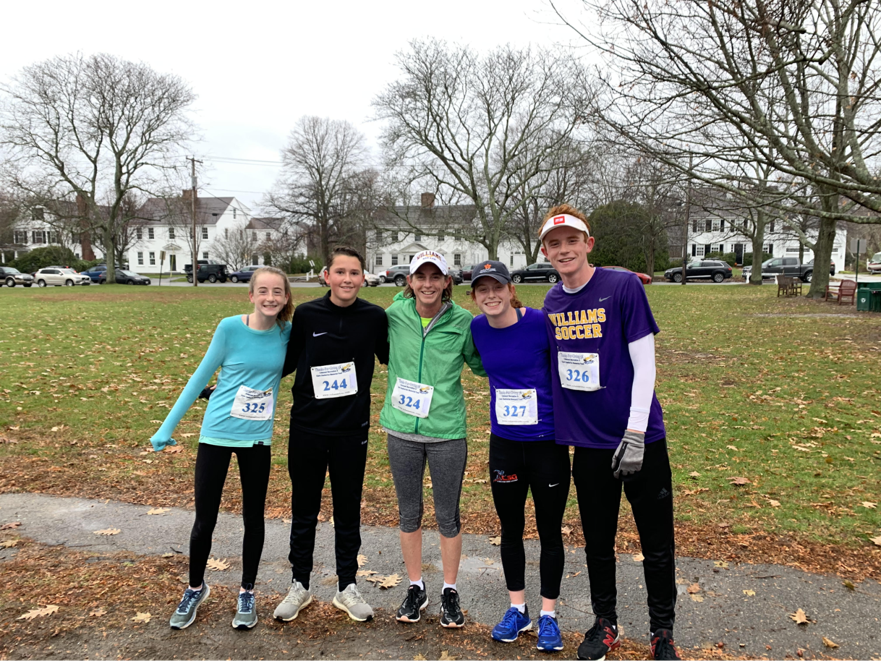 Swann's children, ages 22, 20, and 17, are all living at home during the pandemic. Her 20-year-old son took a semester off college. Her 17-year-old is taking high school courses remotely.
"I've talked to them about how important it is to follow the guidelines with masking and social distancing and gatherings because of what I do," said Swann.
Swann praises the community's hard work following health and safety guidelines and encourages them to keep up the work.
"We all suffer that same fatigue. We know how hard it is to not gather. We all are missing our family. We're missing that contact. But it's important to keep going and keep up with the recommendations because it's for our own safety and the safety of our family members. We will get through this. The more careful we are the faster we'll come out of it. I look at the horizon and feel there's hope for the spring and the summer to come back and gather," Swann said.
Town Manager Stuart Hurd is also planning to have a "nice quiet Thanksgiving dinner at home."
"We've encouraged all of our employees to be extremely careful this holiday season. I know the temptation is to gather together and unfortunately, that's not safe at the present time," said Hurd.
GUEST CANCELLATIONS
At the Inn at Ormsby Hill in Manchester, innkeepers MaryAnn and Jack Orlando spend every Thanksgiving entertaining their guests who come to Manchester to visit family or friends for the holidays.
"We had a full house and one by one people have been cancelling. We have less than half a house," said MaryAnn Orlando.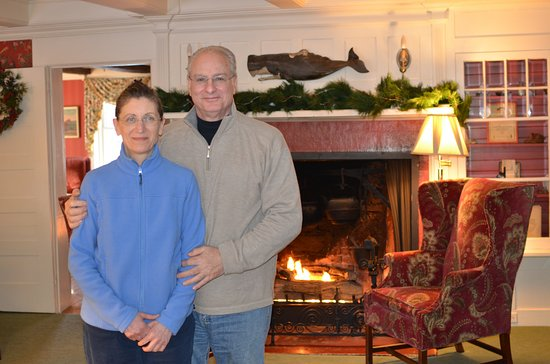 The inn was previously fully booked, but is now down to three people checking in on Thanksgiving Day and two people checking in the day after.
"Once they saw that Vermont changed their guidelines, they panicked and didn't want to come up," Orlando said.
For the guests who are still coming to Vermont, Orlando says they struggle to find restaurants that will serve Thanksgiving dinner as most are closed or only allow one household per table.
Orlando and her husband have one son in Connecticut and another son in California who is expecting a child in the spring.
"I would love to be with my family, but it's almost impossible for us on a holiday to do that," she said.
Orlando and her husband had planned to go to California in April to visit their son and daughter-in-law who are expecting this spring, but had to cancel the trip due to COVID-19.
"By the time we see the baby, I will have not seen my son or daughter-in-law for more than two years. I can really feel for people who want to be with family on Thanksgiving and Christmas because lots of times that's the only time of year that they can get together," she said, "and now it seems like that's being snatched out from under us."
SERVING LOCALS, SECOND-HOME OWNERS
The owner of Ye Old Tavern, Michael Brandt, calls Thanksgiving on a normal year a "good Thursday."
Brandt and his wife, Minna, have lived in the Manchester area since 1995, and have not had a Thanksgiving off since taking over the business in 2001.
"I never have holidays off. It's unheard of in the restaurant industry," said Brandt.
But this year the normal stress and pressure of serving Thanksgiving dinner has been multiplied with the pandemic and lack of customers. The tavern was sold out three weeks ago, but since Gov. Scott announced new health and safety restrictions, the business has been receiving a steady stream of cancellations over the phone.
"With 50 percent capacity, we're already 50 percent down from a normal year — it's one of our busiest days of the year," said Brandt.
Like other business owners, Brandt and his wife are in charge of contact tracing their customers with reservations and have found that most of them are locals or visitors with second homes in Vermont. Those from out of state must certify that they have quarantined in Vermont for 14 days.
"I'm feeling nervous about health, finances, everything. It's not been a fun year. It is what it is, but I would like for everything to go away," Brandt said. "If it takes going down less than 50 percent and closing down temporarily to get it to end and get back to normal, I'm good with that at this point. I just want to see the other side."