Last weekend, I was rummaging around my basement (as one is wont to do on a Sunday afternoon during a pandemic, needing a distraction and a moment — or 30 — alone) when I found a kitchen appliance relic from my past: a mini doughnut maker.
Similar to a small waffle iron, these compact electric molds became popular around the same time as cake pops and we all realized what a pain in the kitchen-behind those delicious cake bites on a stick were to actually make. (How, I ask you, can something be so little and delicious, but hugely time-consuming and messy?)
My sister gifted me this doughnut maker probably about 10 years ago now, as a Christmas present for me and my step-children. If I remember correctly, it came with a dry doughnut mix and we made a dozen, only to find that there was something overly baking-soda-y about the mixture, and no one ate the tiny creations. It somehow made it along for our countless moves and found its final resting place on a dusty shelf in my basement's overflow kitchen area.
Pandemic mommy is in a place of "yes" lately, trying to tackle "fun" breakfast projects for Sunday mornings, which would normally be spent going to church and then out to our favorite greasy spoon for pancakes. These Sunday breakfasts have included one messy morning of apple fritters — more on that recipe once I perfect it! — hash browns, an assortment of breakfast meats, flavored pancakes and homemade French toast sticks in the air fryer. This Sunday, I made up a batch of these mini doughnuts, which compared to all the other things I've tried were incredibly easy.
Hard truth: They aren't technically doughnuts; more like mini cakes in doughnut shape.
Another hard truth: Hungry 5-year-olds and, apparently, grown men don't care if you slap some icing and sprinkles on them and proudly yell, "doughnuts are ready!"
You don't need an electric doughnut maker for this, you can use doughnut molds if you have them, or mini Bundt cakes and bake them in the oven. Heck, you can even just make these in muffin tins and call them doughnut muffins. It's all just an excuse to serve yourself dessert for breakfast.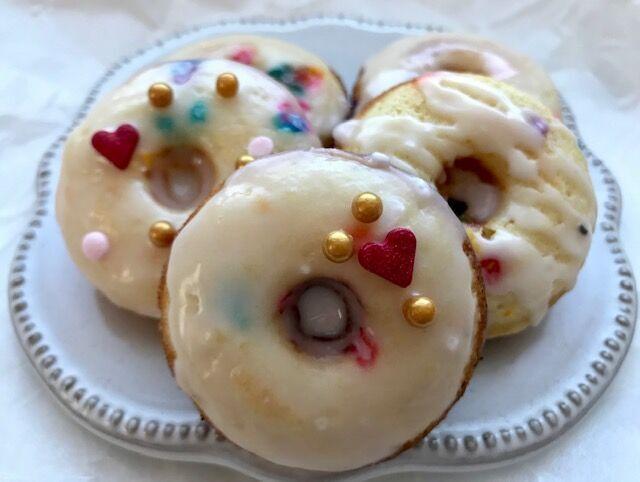 MINI DOUGHNUTS
Note: These were made with a mini-doughnut maker machine, but you can also make these in mini doughnut pans in your oven, or as mini Bundt cakes — when using mini Bundt pans, bake at 350 F for 20 to 25 minutes.
Ingredients:
1/2 cup all-purpose flour
1/4 cup sugar
2 teaspoons baking powder
1/4 teaspoon salt
1/4 cup half and half (milk works too!)
1 large egg
1 teaspoon vanilla extract
2 tablespoons vegetable oil
1 teaspoon orange zest
1/4 cup Rainbow sprinkles (optional)
Directions:
Mix dry ingredients in a medium-sized bowl. Add wet ingredients, right up to the sprinkles (if using). Combine the mixture until the flower is incorporated — do not over mix. Add sprinkles and gently fold into the mixture.
Using a piping bag (you don't have to, a spoon will work, but it does make it easier!) fill the bottom of each doughnut mold. Close the lid and bake for 2 to 3 minutes. Mine starting smoking a bit after 2 minutes so I would check it every 15 seconds or so after to make sure none burned.
Carefully remove from the mini doughnut maker and place on a wire rack to cool. Once completely cooled, decorate with icing, glaze* or sprinkles of your choice. Store in air-tight container.
* For a basic glaze: Combine 1 cup confectioners' sugar, 2 to 3 tablespoons milk and 1/4 teaspoon vanilla extract.