For most of my childhood, my grandmother lived in a one-bedroom apartment in Adams, with an eat-in kitchen, living room, bedroom and a dining area that was off-limits unless it was a holiday.
This room, we children knew as special, because it had a special buffet table where the "good silverware" was stored and the dining room table was only used for fancy occasions, such as family gatherings. Otherwise, it was my grandmother's planning area. Here, she planned holiday dinners and for the dream house she would buy. She drew floor plans, labeled with the type of furniture each room would have. Stacks of magazine pages featuring the latest tables, bedroom sets, kitchen cabinets and stereo sets pinned to them. Her holiday party menus were always stacked neatly, with table layouts and seating charts close by.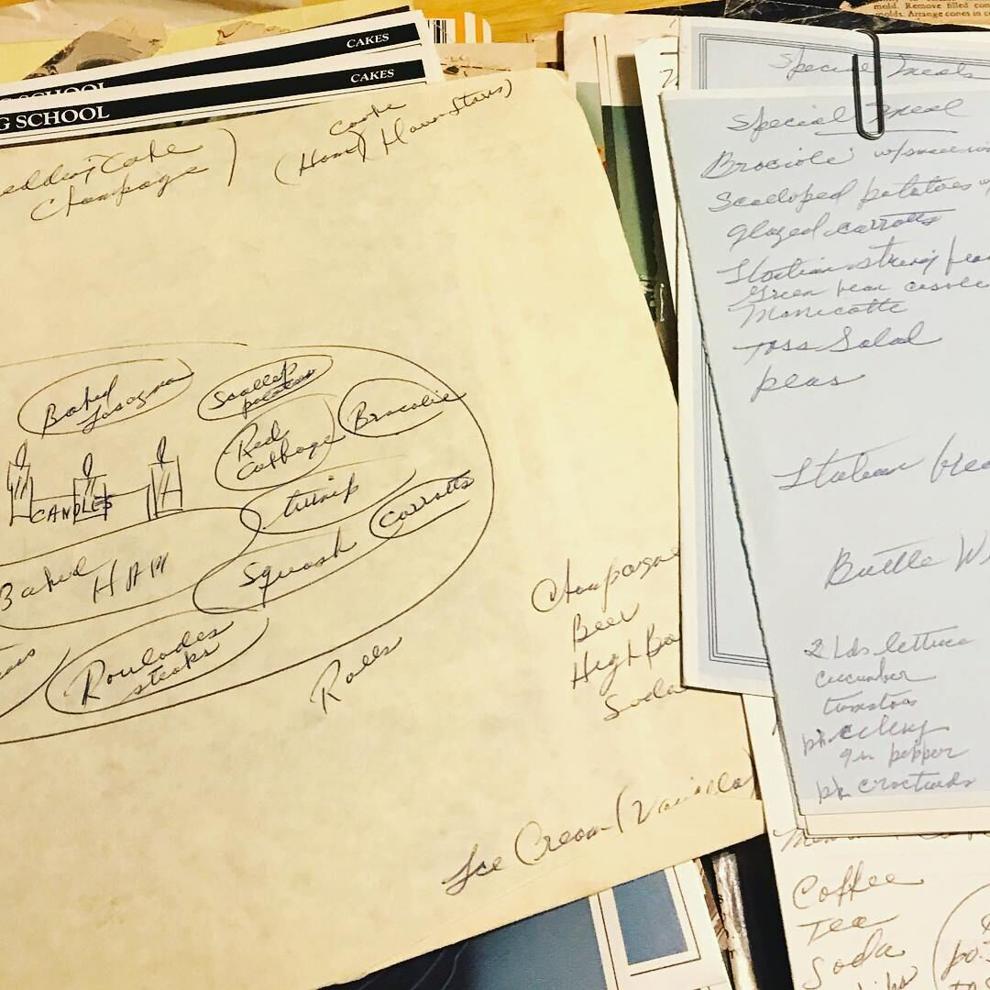 The funny thing was, my grandmother, despite all her planning, varied her holiday menu ever so slightly. On Thanksgiving, the main dish was turkey, with either baked ziti or manicotti as the secondary dish. All of her other "special menus" featured ham, says the granddaughter who begrudgingly ate ham at almost every family function despite despising it. My mother once told me I was exaggerating about how often she made it.
When my grandmother died a few years ago, I inherited her folder of plans, including her "special menus." One Memorial Day, she made half of a ham with pineapple and cherries on it. A wedding dinner? She served baked ham. Her birthday? Half a baked ham. Northern Berkshire Fall Foliage Parade? She made a ham and then celebrated the annual parade with high ball or two while watching it on the local cable access channel. And of course, Christmas and Easter dinners always featured a ham dish.
When you don't like ham, side dishes can be important, and luckily those were almost always the same too. Baked ham was almost always accompanied by baked lasagna, as opposed to baked ziti (a welcome alternative). Then there were your staples — red cabbage, broccoli, carrots, string beans, baked beans, sweet potatoes, squash, peas, mashed potatoes and scalloped potatoes. There were plenty of breads and rolls, fresh from the Polish Bakery in Adams. And the drinks always included champagne, beer, wine, high balls, and soda for the kids. Dessert was always cake from Molly's Bakery, served with ice cream.
When my grandmother retired and moved to smaller apartment in North Adams, the family gatherings became less frequent and less intimate. In recent years, as an adult with my own family, our celebrations, especially on Easter, have shifted toward brunch at a local restaurant. The pandemic has put a damper on that festivity for now, so this year, I'll be making a small feast out of a second turkey we bought at Thanksgiving and have been holding on to for such an occasion.
If I were holding tight to my grandmother's tradition of serving ham on Easter, I'd use this recipe for Easy Sticky Maple Glazed Ham from RecipeTinEats.com, which not only has this wonderful recipe my family enjoys, but also step-by-step photo and video instructions for every step along the way.
One thing I might do this Easter is try to make a Baranek or butter lamb to go on the table. Or, I may make my grandmother's scalloped potatoes, which I recently discovered in her stash of recipes. To my surprise, it came from the North Adams Transcript's food page not some glitzy magazine she was known to read.
EASY STICKY MAPLE GLAZED HAM
(Recipe from RecipeTinEats.com)
INGREDIENTS
10-pound leg of ham, bone in, skin on
30 cloves for studding the ham, optional
2 oranges, cut into quarters
1 cup (250ml) water
For Glaze:
3/4 cup maple syrup
3/4 cup brown sugar, packed
3 tablespoons Dijon mustard (can sub American or other plain mustard)
3/4 teaspoon ground cinnamon
1/2 teaspoon All Spice (or nutmeg)
DIRECTIONS
Take ham out of fridge 1 hour prior to baking.
Preheat oven 320 F. Arrange shelf in lower third so the ham will be sitting in the center of the oven (rather than in top half of oven). Place the glaze ingredients in a bowl and mix until combined — use whisk if needed. Remove ham rind (skin).
Run a small knife around bone handle, down each side of the ham, and under the rind on the cut face. Slide fingers under the rind on the cut face of the ham, and run them back and forth to loosen while pulling the rind back. Use the knife to slice off any residual rind, if needed. Lightly cut 1-inch diamonds across the fat surface of the ham, about 75 percent of the way into the fat. Avoid cutting into the meat. Insert a clove in the intersection of the cross of each diamond on the surface (optional).
Glaze and Baking
Place the ham in a large baking dish. Prop handle up on edge of pan and scrunched up foil so the surface of the ham is level (for more even browning). Squeeze the juice of one orange (4 quarters) over the ham. Then place them along with the remaining orange into the baking dish around the ham. Brush/spoon half the glaze all over the surface and cut face of the ham (don't worry about underside, glaze drips down into pan). Pour the water in the baking dish, then place in the oven.
Bake for 1 1/2 to 2 hours, basting very generously every 30 minutes with remaining glaze and juices in pan, or until sticky and golden. Use foil patches to protect bits that brown faster than others — press on lightly, caramelization won't peel off with the foil.
Allow to rest for at least 20 minutes before serving. Baste, baste, baste before serving — as the glaze in the pan cools, it thickens which means it "paints" the ham even better — but be sure to save pan juices for drizzling.
---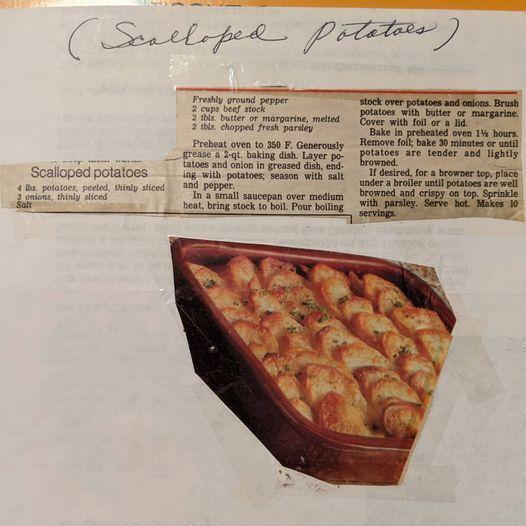 SCALLOPED POTATOES
INGREDIENTS
4 pounds potatoes, peeled and thinly sliced
3 onions, thinly sliced
Salt
Pepper, freshly ground
2 cups beef stock
2 tablespoons butter or margarine (or butter substitute), melted
2 tablespoons parsley, freshly chopped
DIRECTIONS
Preheat oven to 350 F. Generously grease a two-quart baking dish. Layer potatoes and onions in the greased dish, ending with potatoes. Season with salt and pepper. Bring stock to a boil and pour over potatoes and onions. Brush potatoes with butter. Cover with foil or pan lid. Bake in preheated oven for 1 1/2 hours. Remove foil; bake 30 minutes or until potatoes are tender and lightly browned. If desired, place under broiler until potatoes are well browned and crispy. Sprinkle with parsley before serving.