Starting Monday at 8:15 a.m., Vermonters age 40 and older will be able to make an appointment for the COVID-19 vaccine.
Going online to healthvermont.gov/MyVaccine is the fastest way to make an appointment, the state advises, and there are enough slots at sites throughout Vermont for everyone who is eligible.
To use the Health Department's registration system, click on the "Make an appointment" button at healthvermont.gov/MyVaccine. Those who prefer to make an appointment through a participating pharmacy can find links on the same page to Kinney Drugs, CVS and Walgreens.
Anyone who is unable to make their appointment online, or who needs to speak with someone in a language other than English can call 855-722-7878.
Vaccination sites are available around the state, and people can choose a nearby location when making their appointment.
The next groups' eligibility dates are April 12 for those age 30 and older, and April 19 for those age 16 and older.
VT. LAUNCHES VACCINE STORIES CONTEST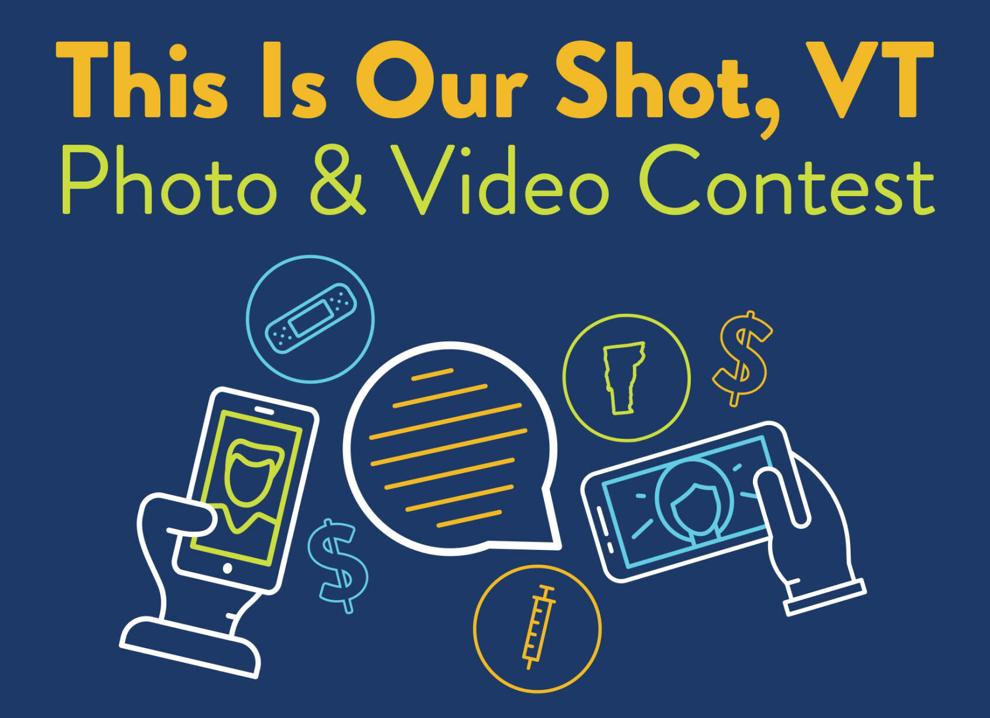 The state is offering residents a chance to win a $500 gift card by sharing their thoughts on what getting vaccinated means to them.
"The COVID-19 vaccine means something different to each and every one of us. But one thing we all have in common is vaccines mean getting back to life and the things we miss," the Health Department said in announcing the contest.
"Help us show why getting vaccinated is important! Submit your original videos, photos or written thoughts on what being vaccinated means to you — whether you've already been vaccinated or not."
Some submissions will be featured in the department's new TV ad campaign, and one submitter will be chosen at randome to receive a $500 cash card.
State of Vermont employees are welcome to submit footage but are not eligible to win the cash card.
For more details, and to submit content, visit healthvermont.gov/VaccineContest.
THE NUMBERS
One Vermonter died of COVID-19 over the past two days, the Department of Health reported. The state's death toll is now 229.
Thirty-two Vermonters were hospitalized with the disease as of Sunday, and one of those patients was in intensive care.
The health department reported 149 new cases of COVID-19 in Vermont on Saturday, and 227 on Sunday, for a total of 376, bringing the total number of cases since the start of the pandemic to 20,149. The total is 394 higher than the number reported Friday. The discrepancy was not explained.
All of Vermont's 14 counties reported new cases over the past two days. Chittenden County had 136; Rutland County had 46; Orleans County had 45; Franklin County had 39; Caledonia County had 26; Bennington County had 18; Washington County had 17; Windham County had 15; Windsor County had 11; Lamoille County had eight; Addison and Orange counties each had five; and Essex and Grand Isle counties each had two.
Bennington County's number of active cases has jumped to 44.19 per 10,000 residents, while the statewide average has risen to 53.90. Windham County's numbers declined slightly, to 26.69 active cases per 10,000 residents. The hottest spots in the state are Orleans and Caledonia counties, with 103.13 and 100.37 active cases per 10,000 residents, respectively. In the Northeast, New Jersey's Sussex County continues to have the highest numbers, at 146.47.
Bennington County has reported 106 new cases over the past two weeks, and Windham County has reported 80. Chittenden County, Vermont's largest county, has had 869 over the same period.
Bennington County continues to have the highest infection rate of COVID-19 in Vermont, at 482.7 cases per 10,000 residents since the beginning of the pandemic. Chittenden County is second, at 393.3, while the rate in Windham County is 264.8 per 10,000.
So far, 359,785 people have been tested. The reported statewide seven-day average for positive tests remains at 2.1 percent. In Bennington County, the positivity rate is 2.2 percent.
The number of Vermonters reported to have recovered from COVID-19 has risen to 16,484.
The statistics supplied by the Vermont Department of Health at midday each day are accurate as of the end of the previous day. The information is preliminary and subject to change.
BENNINGTON, WINDHAM COUNTIES REMAIN AT 'HIGH RISK'
With a seven-day average of daily new cases per 100,000 residents rising to 22.6, Bennington County remains in the "high risk" range, according to the nonprofit Covid Act Now. Windham County, where the seven-day average has risen to 15.9 daily new cases, is considered high risk as well.
Among Vermont's neighbors, Berkshire County in Massachusetts and Washington County in New York are rated as very high risk, while New York's Rensselaer County, Franklin County in Massachusetts and Cheshire County in New Hampshire are rated as high risk.
40.1% OF VERMONTERS NOW VACCINATED
The Department of Health reported that 219,981 Vermonters, or 40.1 percent of all those over the age of 16, had received at least one dose of a COVID-19 vaccine as of Saturday. That's an increase of 1.2 percentage points since Friday.
According to the state, 131,900 people have completed their vaccination, and 88,100 have received a first dose.
In Bennington County, 44.8 percent of residents have received vaccine, and in Windham County, 36.6.
So far, the state has received 431,300 doses of vaccine, 79.8 percent of which have been administered.
The vaccination dashboard is not updated on Sundays.
VT. MAKES EFFORT TO BOOST VACCINATION RATE IN ESSEX COUNTY
Vermont is setting up special clinics in remote Essex County to get more people vaccinated against COVID-19 in a place that has the lowest vaccination rate in the state.
Human Services Secretary Mike Smith says the state needs to get people vaccinated from Essex County, located along the northeast corner of the state, abutting the Canadian border and the Connecticut River border with New Hampshire.
The state will be sending mobile clinics to nine separate locations in the county on April 10 and 11. By Saturday people will be able to make appointments online especially for Essex County.
In addition, the state is in discussions with a New Hampshire health care provider located just over the state line to administer vaccines to Vermonters.
SCHOOLWIDE COVID-19 TESTS PROMPTED AT PITTSFIELD, MASS., HIGH SCHOOL
Massachusetts health officials will descend on Taconic High School in Pittsfield, Mass., Monday and Tuesday to determine if the coronavirus is being spread on campus.
The Massachusetts Stop the Spread Response Team will administer the full COVID 19 test to consenting students and staff, according to Pittsfield Public Schools Interim Superintendent Joseph Curtis.
Four new student cases since Friday, bringing the total to 12 in two weeks, prompted the call for testing, Curtis told The Berkshire Eagle on Sunday.
The city's top educator sent out an email Saturday to Taconic parents and guardians asking they fill out an online form allowing their children to receive to the PCR test. He noted failure to consent will not prevent a student from being kept off campus.
Half the roughly 800 students and 100 staff will be tested Monday, the rest on Tuesday, with all results known by Wednesday. Curtis said the results will hopefully determine if a cluster of cases exists on Valentine Road campus.
City and school officials, according to Curtis, believe the rise in COVID-19 student cases within the Taconic school community is due protocols being ignored off campus.
5 DORMS UNDER QUARANTINE AT UCONN
University of Connecticut officials have placed five dormitories under quarantine because of a spike in coronavirus cases that may be related to large, off-campus parties.
Quarantines were imposed at 4 p.m. Friday on the Eddy, Middlesex, Windham, Rogers and Russell dormitories on the main campus in Storrs. Students in those dorms are barred from attending in-person instruction or events through next week.
UConn officials reported 20 new on-campus coronavirus cases Friday, after seeing 15 new cases on Thursday. The new infections appeared to be concentrated in the North, Northwest and Alumni residential complexes.
Last weekend, state police said a party attended by more than 100 people at a house near campus resulted in two arrests and one infraction citation. Earlier in March, 150 to 200 people gathered for a party about a mile from campus, resulting in three people being issued infractions.
Since the semester began, 324 students who live on campus have tested positive for the virus. The current positive testing rate is 1.5 percent.
CASE NUMBERS AMONG THOSE UNDER 30 RISING IN MAINE
As more older Mainers are vaccinated, a surge of infections is being driven by people younger than 30.
Case numbers are rising in Maine — and the average age of infected individuals skewing younger — despite a vaccination campaign that has reached roughly one-third of the state's residents, the Portland Press Herald reported.
The age distribution of cases has changed dramatically in one year. On March 31, 2020, people younger than 30 accounted for only 11.7 percent of all Maine cases. A year later, they account for 18.2 percent of all cases.
Dr. Nirav Shah, director of the Maine Center for Disease Control and Prevention, said expanded vaccinations will help. The state is making COVID-19 vaccine available to everyone 16 and older on Wednesday.
"We talk a lot about the light at the end of the tunnel. Vaccines are our vehicle out of that tunnel," he tweeted.