MANCHESTER — When Steven Henry's friends came to visit on a recent weekend, they found themselves waiting at the single high-speed electric charger in town in the Northshire Bookstore parking lot.
Henry was among Manchester Energy Committee members attending the local Select Board meeting Tuesday night to update the board on their activities since being appointed this past summer. But it just so happened that the board also discussed plans for improving the parking lot between Walgreens and the Manchester Elementary Middle School field on Memorial Avenue — which could include EV charging stations installed by Green Mountain Power.
That led to Henry addressing the board on the current state of EV charging in Manchester — in which there are a number of level 2 chargers throughout town, but only one level 3 direct current high-speed charger.
According to interim Town Manager Leslie Perra, Green Mountain Power is ready to install charging stations in the refurbished parking lot, if that project moves forward as planned. The Development Review Board's hearing on the project, a proposed joint effort between the town and Peter Keelan, who both own part of the lot, is expected to continue at 7:30 p.m. on Nov. 2.
In the previous hearing on the parking lot, board members expressed concern over whether setting aside spaces for charging amounted to designated parking places — a practice they have avoided in the past.
Whether the new chargers be high-speed or "DC fast" chargers isn't yet clear. But Manchester is part of the state's plan to add a station with at least four high-speed charging outlets.
POWER UP
Vermont already has more than 300 public EV charging units in place, as the state used dollars from the Volkswagen Clean Air Act settlement to help build that infrastructure over the past several years. Locally, you can find them at lodgings including the Equinox, the Kimpton Taconic Hotel and The Inn at Manchester, at Zoey's Double Hex restaurant, Langway Chevrolet, and at the Northshire. Henry said he's spoken with Orvis about installing chargers at its flagship store on Main Street.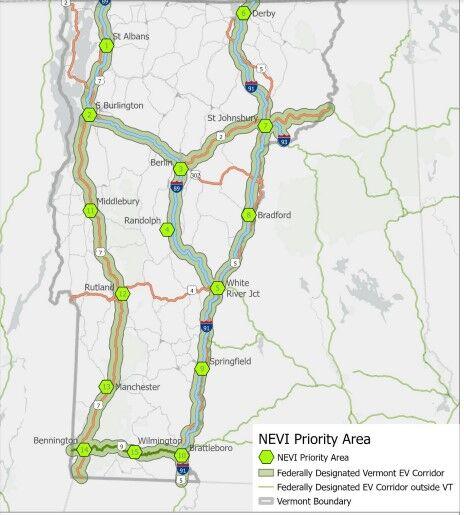 Throughout Vermont and across the country, more are on the way, through state and private investment and through a federal initiative designed to provide high-speed chargers across the country's main travel corridors. According to the state's National Electric Vehicle Infrastructure plan, high-speed chargers are recommended for Bennington, Manchester, Wilmington, Brattleboro and Springfield.
Those stations will be built with federal dollars through the national plan, and the Vermont Agency of Transportation will be the lead agency, according to Patrick Murphy, the sustainability and innovations project manager for VTrans.
Meanwhile, Green Mountain Power plans to build 10 fast-charge stations in Vermont every year over the next five years, spokeswoman Kristin Kelly said.
LOCATION, LOCATION, LOCATION
The state Department of Housing and Community Development, which had led a multi-agency consortium overseeing charging stations to this point, will still have responsibility for chargers outside the federal program, including workplaces, attractions and multifamily housing units, Murphy said.
The overarching plan is to make the charging network "as convenient as possible, so people are encouraged to purchase electric vehicles, adopt the technology and begin to work away at our ambitious climate goals."
While many people charge their EVs at home or at work where it's convenient and cheaper, "there are equity issues there," Murphy said. "Not everybody lives in a place that provides access to a level 2 charger. We're working at trying to find solutions for shared charging access." That included a $1 million pilot program funded in last year's state budget.
Henry, an information technology specialist at Memorial Sloan Kettering Cancer Center in New York, is in the process of adding his fourth and fifth electric vehicles to his family's fleet. He can rattle off all the chargers available in town and up and down Route 7, as well as the EVs he's seen driving around the area.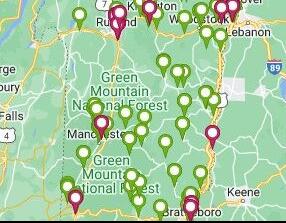 As he told the Select Board, the day his friends visited, the group waited their turns in the Northshire lot for the single Level 3 charter, as well as other tourists in the lot. One, a woman traveling from Quebec, had charged her vehicle in Rutland, but needed more juice.
That tells him that the town needs more high-speed chargers for its many visitors.
"There is a wait sometimes; at night, there isn't," he said of the high-speed charger. "When the tourists leave, it's empty."
The federal guidelines mandate level 3 charging stations be placed every 50 miles along major transportation corridors, within 5 miles of a major intersection or exit, with at least four charging stations delivering at least 150 kilowatts per hour. In Vermont, those corridors are Interstates 89 and 91, Route 7, Route 9 and Route 2 from Montpelier east to the New Hampshire border.
The goal is to assure EV users have access to quick and reliable power as they drive longer distances, Murphy said.
As of February, there were 6,585 plug-in electric vehicles registered in Vermont, with more than half being solely all-electric and the remainder gas-electric hybrids, according to Drive Electric Vermont. At the same time, Vermont had the highest number of EV charging stations per capita of any state in the union.
NEED FOR SPEED
There are three common levels of electric vehicle charging, classified by how much current they provide to the car's battery in an hour. Level 1 runs off household alternating current of 120 volts — the plug in your house or office — and provides a relatively slow charge of about 3 to 5 miles of range per hour, according to Drive Electric Vermont. It's what you might use at home overnight if you don't have a dedicated charger at home or at the office parking lot.
Level 2 chargers deliver 240-volt power and are the most commonly found in homes, workplace parking lots and public places. They typically offer 10 to 20 miles of range per hour. They're also the charger most readily available for home use, often at a deep discount. Green Mountain Power will give you one for free if you enroll in the utility's car charging program, Kelly said, adding that the math equates to paying $1 per gallon for gasoline.
"It's tremendously convenient to charge at home. For most people, day to day, that takes care of you."
Level 3, also known as DC fast chargers, convert high voltage alternating current to battery-stored direct current — hence the increase in speed. According to Drive Electric Vermont, they can deliver an 80 percent charge to compatible vehicles in between 30 and 60 minutes.