NORTH BENNINGTON — Huluppu, a magical bookshop, is now open to "healers, shamans, occultists and more … witches, wizards and tricksters galore," as its website reveals.
Janet Sleigh, owner, frequently visited Vermont with her parents, who were avid skiers. From age 5, she was put on skis, but what she remembers most is the car rides.
"I still, all these years later, remember when we hit Vermont. … The difference when we hit the white wooden farm houses ... a stream next to the car. I would wish the car would stop so I could jump out and run into the woods."
Now that she lives in the woods — in a little cabin in Shaftsbury with her husband, Russ — she's happy to be able to look out onto Main Street while in her shop. The word Huluppu is believed to be traced to one of the world's most ancient stories, "Gilgamesh," and is thought to refer to the World Tree, which connects earth, heaven and underworld.
The store is decorated with wooden antique furniture and handmade tapestries, with a range of books from Christian mysticism to shamanic healing, witchcraft and a tarot deck for everyone in the family. A cozy nook in back is designated to clubs and groups — a spiritual development group, tarot club and jewelry-making workshops.
Sleigh, a shamanka (female shaman) and biodynamic craniosacral energy practitioner, also hopes that the store will be a place of healing.
"I hope it becomes more of a haven. There are a lot of people in need of love. ... Wouldn't it be fun if people came and started making connections? And after COVID, getting back to understanding that community is far, far more important than a virus," Sleigh said Tuesday.
Tarot cards are Sleigh's main interest, but she's excited to see what the community will take an interest in.
"Wicca and witchcraft [are] very popular. But it's actually just the next newest thing. If you look at the books on wicca and witchcraft, you've got chakras for witches. For a very long time, chakras, yoga, the Vedas and Indian philosophy have been extremely popular. But people are moving away from that … so you have 'Yoga for Witches.'"
Sleigh hopes to have a book for everyone. "A new generation needs something a little different from their parents."
After spending the last 30 years raising her boys in England, she's now settled into Vermont, in what was previously her vacation home.
"I miss England more than Russ misses England. England has far, far more mysticism that America has," she said. "Certainly when you're deep in the mountains here, there's a sense of otherness."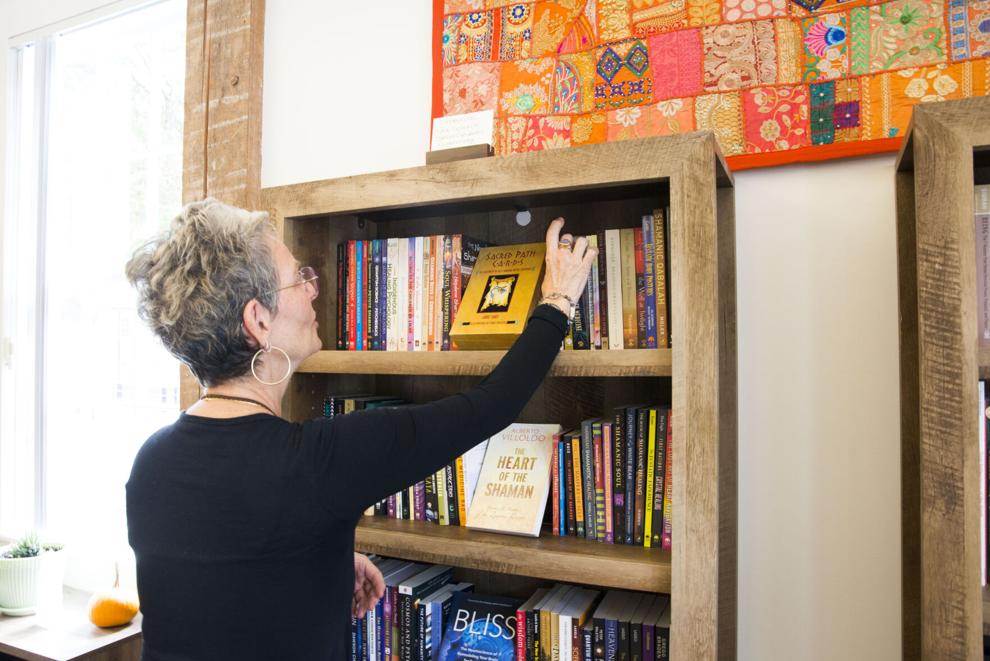 Check out Sleigh's favorite books in the shop — anything by Native American author Jamie Sams, including "Earth Medicine: Ancestor's Ways of Harmony for Many Moons."
"It's not your normal bookshop. It's a mystical, magical bookshop."
The store will be open Wednesday through Friday, 11 a.m. to 5 p.m., and by appointment for shamanic energy medicine and tarot consultations.