NORTH BENNINGTON — The village will hold a reception to celebrate the installation of an informational kiosk and signage sculpture created by local sculptor Joe Chirchirillo on Saturday at 11 a.m. The event will begin at the kiosk on the corner of Main and Houghton streets, and proceed to the signage sculpture at the corner of West and Water streets.
Chirchirillo's year-long project to create the two works was funded by the Vermont Arts Council. Program Michelle Bailey is expected to attend Saturday's event.
The two sculptures reflect the history and architecture of Bennington. For example, the roof of the kiosk, although made of steel, was constructed to have the feel of clapboard, similar to the outer walls of almost every house in the area; the two columns are made from steel, found objects that all have local significance.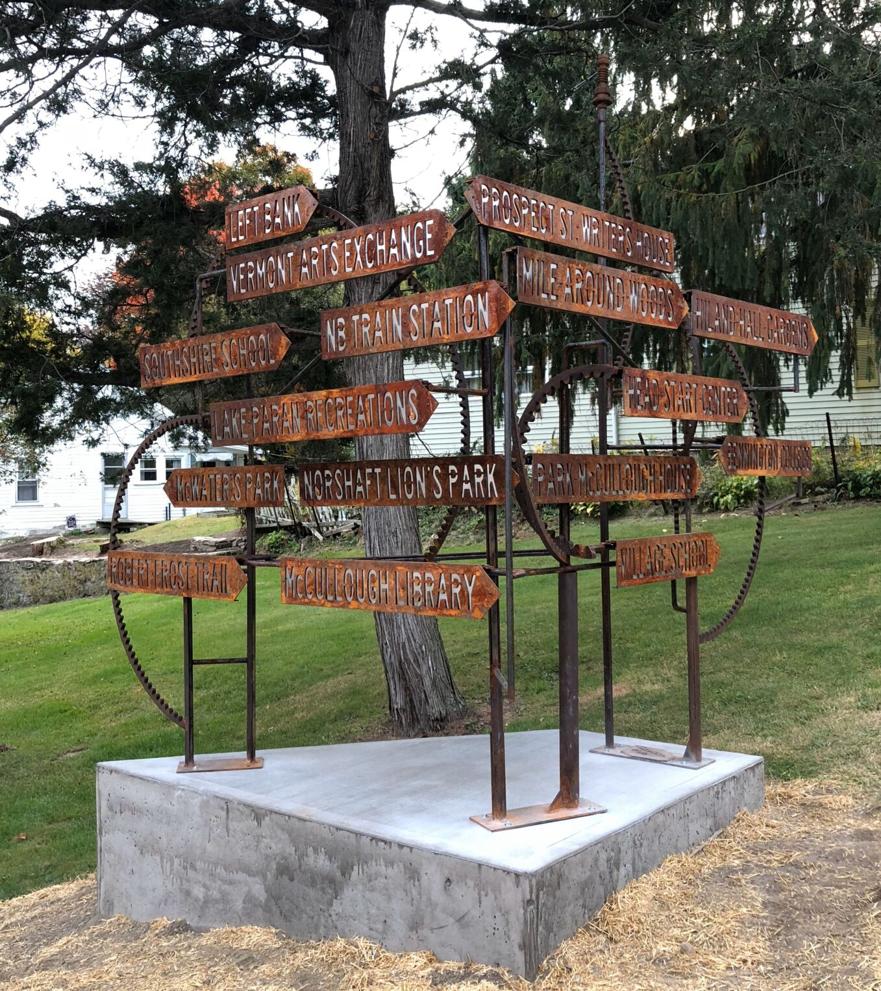 The signage sculpture was also made to reflect signage at Bennington College. The rusted steel was cut out to reveal the stainless backing, making the signs shine differently during the day and evening as the light hits them from different angles. The signage points the way to the 16 non for-profit organizations and attractions in North Bennington.
The objects welded together to form the upright columns are made from antique farm or factory equipment from the area. Chirchirillo received a large contribution of steel from North Bennington's National Hanger Company; some of the objects they donated are at least 100 years old, dating back to when Nahanco's site was a furniture factory. He also received a 1940 John Deere plow, a tiller and two truckloads of interesting and historic steel objects from David O'Brian's farm in Shaftsbury.
A prominent feature of the kiosk and signage sculpture are the steel arcs welded into them. These were from the production of sprockets from the UST factory in Bennington.
In addition to the welded steel, the glass front case of the kiosk cabinet was made by local cabinetmaker Ray Mullineaux. "He did an amazing job on the case and the locking mechanism — great craftmanship," Chirchirillo said.
The grant that is the initiative for this work is called "Animating Infrastructure." The North Bennington project engaged various aspects of the community and local history in the creative process that also has a practical purpose. Since the grant is available only to non-for- profit organizations, Chirchirillo partnered with Paran Recreation.
According to the Vermont Arts Council, "Animating Infrastructure Grants support community projects that integrate art with infrastructure improvements. Through this program, the Council strives to demonstrate the positive impact of art in helping communities meet goals of livability, walkability, safety, economic vitality, and community vibrancy, and to support the creation of unique infrastructure projects where function and art are one and the same."
Chirchirillo also received financial support from the Fund for North Bennington and the Village of North Bennington.
The purpose of the kiosk and the signage sculpture to direct and communicate with locals and visitors and to publicize events from local not-for-profit organizations, Chirchirillo said. "These organizations are already adding their information to the kiosk cabinet. We are looking forward to seeing info about all the amazing things happening in North Bennington. We hope that you come to see the pieces yourself."