BELLOWS FALLS — Ever since Kyle and Kaila Cumings Farace met, they've been making custom knives and swords together.
Kaila Farace has been making custom knives and swords for eight years; and her husband Kyle for only about two years.
But, she said, Kyle took to it like a natural, and she urged him to apply to compete in the History Channel's show "Forged in Fire." The show will be broadcast on Nov. 25 at 9 p.m.
"I've taught a lot of people," she said, "but no one picked it up faster. He can move metal so fast."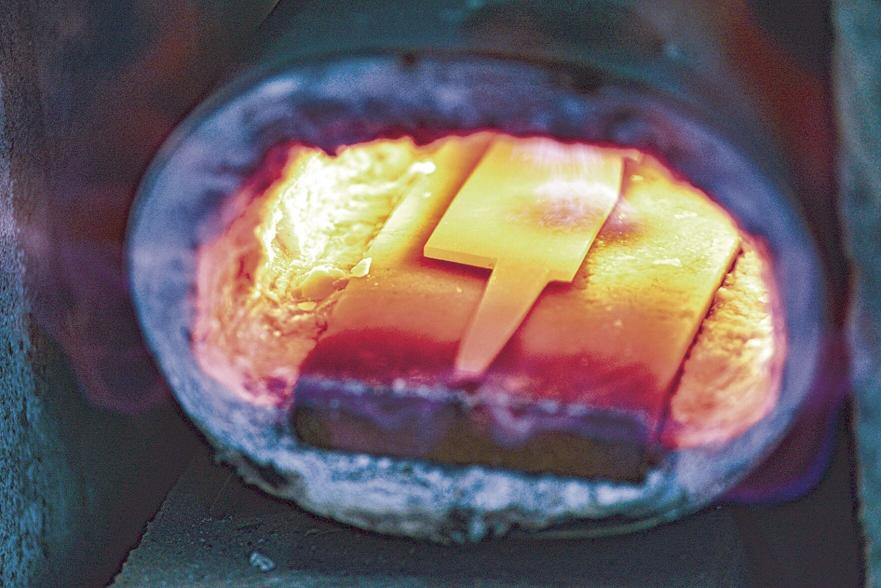 Kyle Farace, 34, grew up in Windham and he said he was always taking art classes after school because he loved to make things. In addition to working for landscaping businesses, and a glass artist, he said the move to working with steel was easy.
"Two years ago I made a blade for the first time," said Farace, saying he now makes "knives, swords, axes, any kind of blades."
The biggest demand is for hunting knives, they both said, and chef's knives. "That's my favorite thing to make," he said.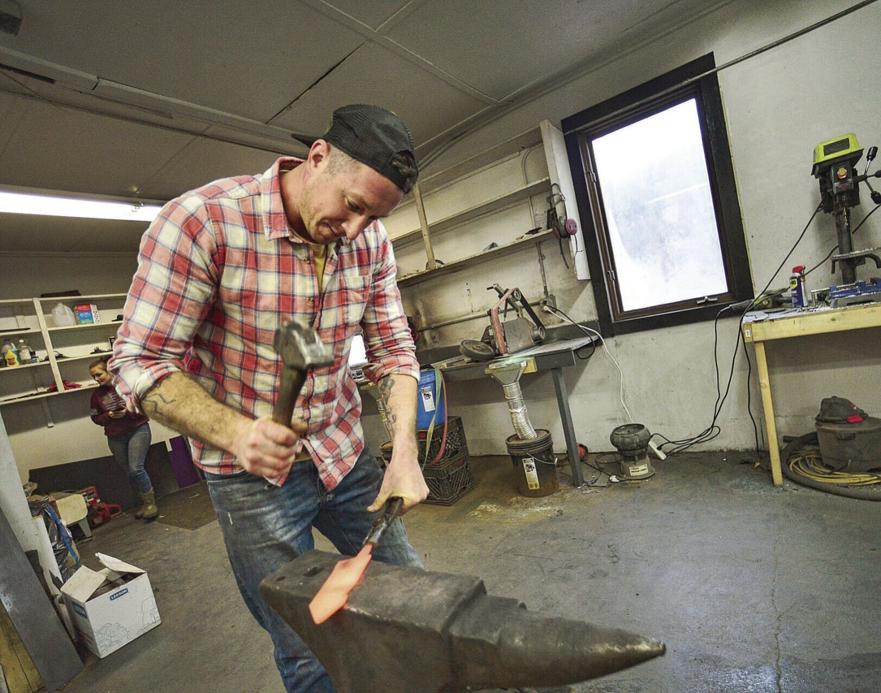 He said it was Kaila, 32, who encouraged him to apply for the show; she herself is a veteran reality show participant, having been featured in "Naked and Afraid" in 2017. Her contract with that show prohibited her from applying herself to "Forged in Fire."
Kyle Farace applied to "Forged," and then had to wait for nine months. The show screening interview was via Skype and he was invited to participate in the three-round competition with four other contestants. The final test was to create an ancient Indian weapon with three blades.
After years of working on construction and landscaping crews, Farace said forging handmade knives and swords — "anything with a blade" — was an interesting challenge and fulfilling profession.
"Kaila has been my tutor," he said.
Farace won't say how the television competition went, but he said it was a challenge. The competitors were only allowed to bring three things. He brought two hammers and a photo of Kaila as inspiration.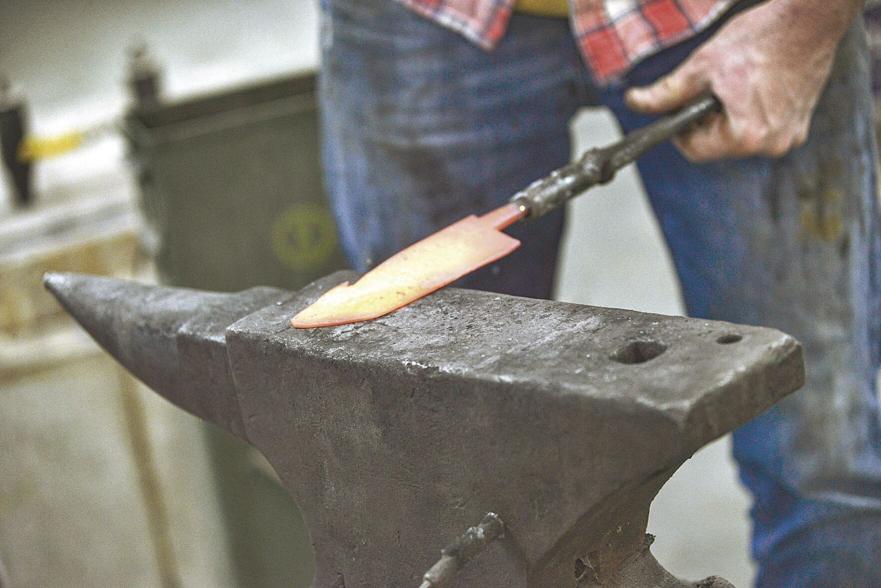 The Faraces now have their first indoor workshop in an old plumbing shop in Bellows Falls, and live in Brattleboro with Kaila's 12-year-old daughter. And they sell their creations via their social media accounts to a world-wide audience, shipping custom knives to countries including Australia, South Korea and Ireland. "Right now, nothing is local," he said.
For eight years, Kaila Farace said, she worked in an unheated 5-by-8-foot unheated shed in Troy, N.H., in back of her parents' home, where every day in the winter she had to thaw the "quench" bucket of water with a torch.
They found their Bellows Falls shop on Craigslist, and they packed up all their equipment and moved to the Westminster Street location. "I quit my nine to five job," and making knives became his and her livelihoods.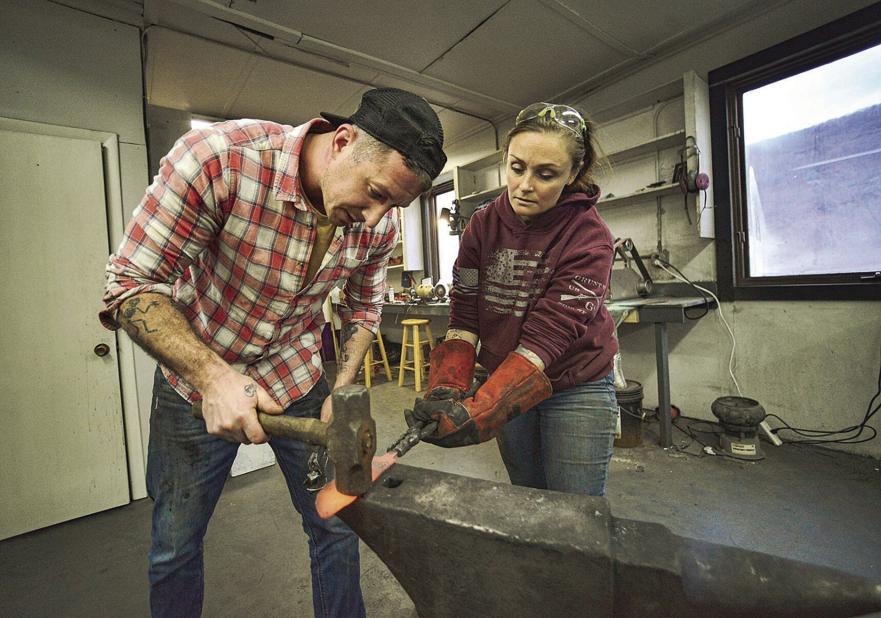 The Faraces love what they are doing: and they say they love being together, 24/7. This summer they got married in, of all places, Las Vegas, and they made their own wedding rings out of carbon steel, trimmed with copper and brass.
At their Bellows Falls shop, their work benches have a view of Fall Mountain, and their forge, which is about the size of a large watermelon, allows them to forge the carbon steel, which they then pound, pound and pound again into a blade.
Kaila Farace said she basically taught herself the trade by watching social media videos, and people liked what she made and her aesthetic, and she was able to quit her jobs as a hairdresser and later a waitress.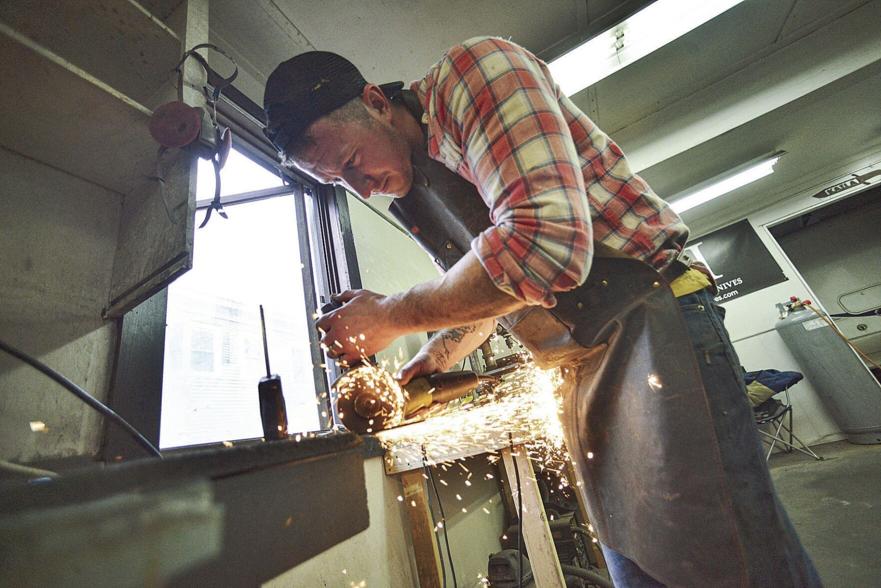 Over the years, she has made specialty knives for people, and for unusual clients, such as the Boston Bruins hockey team. "I made them knives out of their old skateblades," she said.
"It's so cool to be part of that," said Kyle Farace, who said he was making a hunting knife for a father to give his young son, who is just starting to hunt. The handle will be the antler from the son's first buck, he said.
He was also working on a survival knife, a "kukri" machete, which has a large black blade and an oak handle.
A popular request is to turn an old railroad spike into a knife, they said, a job that typically takes them three hours.
"It takes a lot of hammering," she said.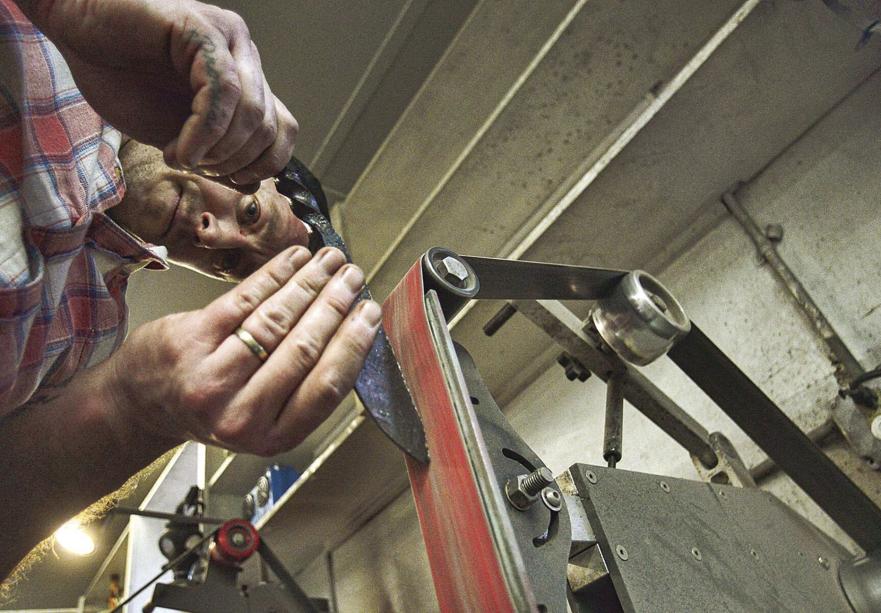 Kyle Farace hopes that once his wife's contract with "Naked and Afraid" expires they can apply for a couple's show, making knives.
The show does do teams, such as father-son, father-daughter. "They've never done a husband and wife," he said.