Author's note: Do we locals ever act as tourists at home? A tourist dives into some of the best spots of a place, eager to experience what it has to offer. Too often, we locals — OK, I'll speak for myself — too often I settle into a routine and skip the places tourists travel hours to seek out. I decided to be a tourist in the Northshire, and see what I was missing. This article is part of an occasional series.
MANCHESTER — I'm grumpy about names. I'm not big on acronyms — so Southern Vermont Arts Center becoming SVAC makes me grumpy. Add to that SVAC's restaurant's name — CurATE — which seems like a vicar with a stiff collar — and I become even grumpier. The problem with names wouldn't be a big deal, except I suspect SVAC CurATE isn't pulling in locals.
And that's too bad.
Tourists, however, seem aware of this little secret: the Arts Center offers a terrific selection of paintings and excellent food in a cozy setting. If you're wanting a weekend evening out — or a Sunday brunch — is a mile or so out of town too far to venture?
For people who haven't been to the Arts Center, here's a quick overview. You wind up a hillside, noting large art objects which may or may not engage you, depending on your status (passenger or driver) and ability to appreciate, while moving, outsized art plunked on land. At the hilltop you park, and two stately buildings draw your attention. The Elizabeth de C. Wilson Museum (more grumpiness) is off to the right; the Yester House (wonderful name!) a few steps farther, off to the left. The Wilson now houses Gail Winbury's large-scale abstract paintings, an exhibit running until Feb. 25.
Running next (March 4 to April 23) will be Art from the Schools, a great chance to glimpse the creations flowing from 1,000 local students, grades pre-K-12, including homeschoolers.
The Yester House holds an exhibition space and the dining area. Upon entering, do yourself a favor and look up. Behold! There, floating overhead, is a chandelier crafted by glassblower Robert DuGrenier, resident of Townsend. The chandelier consists of 240 orbs, each lit by LED bulbs, able to shift color with a click of a remote, fading from emerald green to cobalt blue. Schoolchildren, who regularly visit, stand underneath, according to Executive Director Anne Corso, and cry out "magic, magic, make it turn!" calling on the lights to change. The children's favorite is rainbow, saved for the grand finale.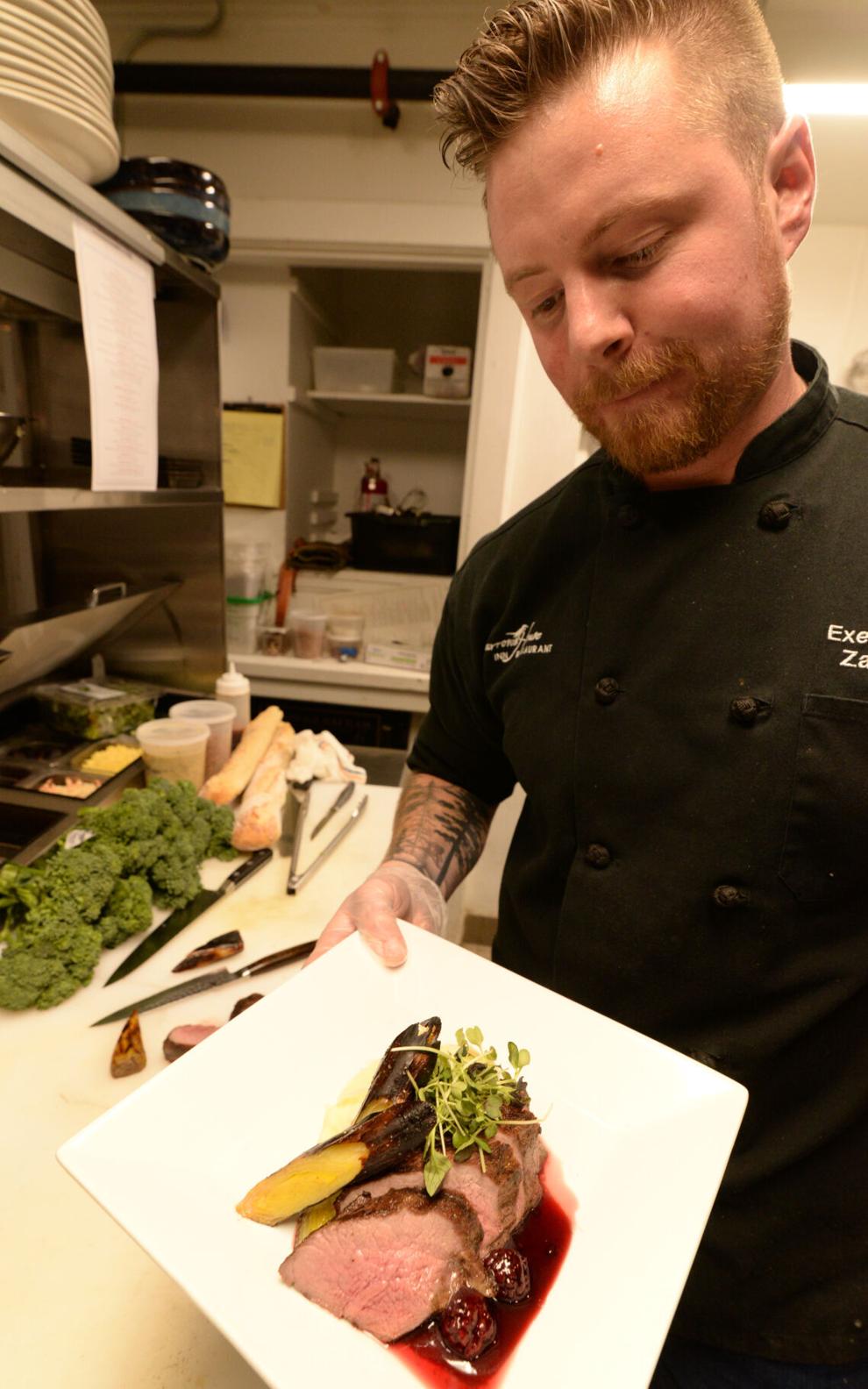 For those who do move beyond the chandelier, currently on display — and for sale — are the works of 275 artists, most from Vermont, who are members of the Arts Center. "That's the beauty of the members' show," says Corso. "There's something for everyone" — small, large, realistic, abstract, drawings, paintings, photography — "a little bit of everything."
One artist, for example, is A. T. Esbee, whose "Nocturne #1" in mixed media captivated my friend Margaret. Esbee's other work, "Nocturne," on the other hand, appealed to me — its horizontal ochre lines giving way toward the top to a slash of gold. (An A. T. Esbee online has a faint footprint, a Pinterest account of exactly 0 followers — suggesting either especially poor promotion skills or a healthy disregard for them. I'm also taken with the naming of the paintings, reminiscent of George Foreman naming all his male offspring George. Why not?)
Dona Mara Friedman in American Icon #3 (2021) highlights a barn's angular lines, taking a familiar Vermont image and moving it toward the abstract.
In the dining area, "Christmastime," (from the permanent collection) painted by Luigi Lucioni in 1951, suggests Norman Rockwell in its cozy holiday images. The dining space itself is inviting. Divided light in windows and French doors gives the room an older feel, even though it has undergone renovation.
Church Street Hospitality (Publick House, Dorset Inn and others) oversees the restaurant. I was lucky to visit when chef Zach Baker, normally of Barrows House, was cooking in what was billed as a pop-up. (Julie Heins, the usual chef, was away.) Baker, with Marc Roppolo as sous chef, cooked one of his dishes from Barrows — Dueling Divers, which features seared scallops, smoky house bacon jam, Bromley Farm micro greens, and squid ink risotto. Baker gave the scallops a light crust, and the flavors sparked as finely as colors and shapes displayed throughout Yester House. Baker also prepared sous vide venison with a blackberry gastrique, roasted leeks and mashed potatoes — a happy party of flavors, the venison tender and not gamey (with a profile closer to prime rib).
Colleen Palmer, manager of Church Street Hospitality, singled out a drink she invented: the Curatini (Grey Goose, Pama, fresh lemon, splash of Grand Marnier). And here's something unexpected on a brunch drinks menu at an arts restaurant: "Bloody Good Time — $44 — Big Ol' Bucket of Bloody Marys." Vermont News & Media does not have a budget to send a reporter to personally verify the claim of the title. However, it is just one small indication that the Southern Vermont Arts Center may surprise you with what it has to offer.