This is the golden time of farm shares and farmers markets. Tomatoes abound. Hot pepper varieties overflow. Sweet corn appears on the back of pickup trucks parked in central locations. The amount of lettuce in your CSA share starts to feel kind of like a personal attack. And more random veggies start appearing, including a favorite of mine, tomatillos.
I've been a CSA (community supported agriculture) participant almost every summer that I have lived in the Berkshires, and almost every year, August means a handful or two of tomatillos will be in my weekly share. It's never more than that. Inevitably, I look up a recipe for tomatillo salsa and discover it calls for one to two pounds of tomatillos.
Sometimes, I wait a few weeks to try and collect enough for one recipe's worth, but by the time I have enough, the oldest ones are getting soft and squishy. Once or twice I've made the full recipe, but the leftovers end up sitting in my refrigerator too long. I have successfully frozen extra salsa to use as a winter marinade, but I'd so much rather just use what I have when it's fresh instead of waiting to meet an arbitrary tomatillo threshold.
So for my column this month, I present to you a tomatillo salsa recipe that can be made with four or five of these weird, sticky, sweet tomato cousins, and no more. You can customize it by adding garlic or subtracting hot pepper, or eliminating cilantro if you're one of those people who think it tastes like soap. It's just enough salsa for one family dinner — we ate it last Sunday with my "I don't know what else to cook" staple, a rice bowl with ground turkey and black beans. Mine was made entirely with CSA and garden veggies, but you can do it with supplies from the grocery store if you don't have a vegetable garden or aren't frequenting farmers markets lately.
All you have to do is roast and blend, and you're on your way to a fresh, vegetal topping that adds lightness and acidity to whatever you're eating. Roasting adds some depth of flavor but doesn't take away from the farm-fresh taste of this salsa. It's a bright note with a little bit of a backbite from the hot pepper (any kind of pepper will do, but something jalapeno-like is recommended) and some warmth from the roasting process, which adds complexity to a recipe that is incredibly simple.
Try it on shrimp, on top of thinly sliced steak for tacos or burritos, over tofu, or chicken, or a nice white flaky fish. It's worth the few minutes of chopping, and worth turning your oven on, even on a hot day.
If you happen to have a lot of tomatillos, I guess you could double or triple or quadruple this recipe … but this is the time of year to take advantage of local produce when it has just been picked, so I recommend you use what you have and make a memorable summer dinner instead. There's still plenty of time for freezing, canning, and processing.
A REASONABLE AMOUNT OF TOMATILLO SALSA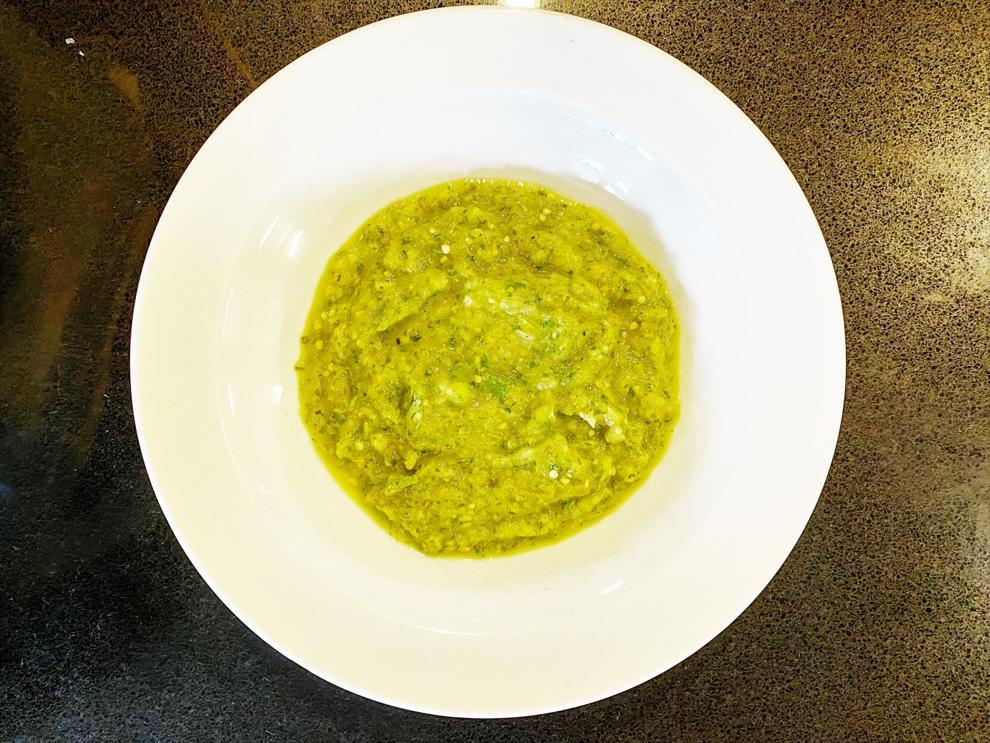 Serves 2-4
INGREDIENTS:
4-6 tomatillos, papery skins and stems removed
2 small or 1 medium white onion
2 cloves of garlic (optional)
1 hot green pepper, such as a jalapeno
A handful of fresh cilantro
1-2 tablespoons lime juice (use apple cider vinegar in a pinch)
Salt and pepper to taste
Olive oil
DIRECTIONS:
Preheat oven to 425 F. Halve tomatillos and onions and place on a sheet pan. Halve hot pepper and remove seeds and pithy innards (or leave in if you want your salsa extra hot) and place on the same sheet pan. Drizzle with olive oil and a pinch of salt and pepper; toss around to coat and roast for 25 minutes. After they finish roasting, let them cool for 20 to 30 minutes.
Using a blender or food processor, blend roasted vegetables with garlic, cilantro, lime juice, and another pinch of salt until pulpy. Serve.