It finally happened! My garden finally produced enough tomatoes to make sauce.
After years of my backyard harvests yielding miniscule amounts, I plucked 6 pounds of ripe fruit from the vines and produced two 16-ounce jars of sauce.
It's a huge victory. Countless times my tomato plants have succumbed to blight. I'm lucky this year, as I still have more tomatoes out there, getting ready to ripen.
Not all of my garden plants were as lucky. The heat caused my pak choi, lettuce and spinach to go to seed early. I lost what was going to be a bumper crop of green beans and a few yellow squash plants to the blight that follows wet weather. The rabbit that tunneled under our fence to feast on clover also helped itself to our carrot patch and uprooted the lone corn stalk that grew this year.
I'm sure you can understand why I'm so happy to have a harvest of 6 pounds of tomatoes. But Jennifer, you say, "You made two 16-ounce jars of sauce. That's one 24-ounce jar of store-bought sauce and half of another jar. Why are you so happy? Wouldn't it be faster to go to the store?"
Yes, dear readers, it would, but there's just something satisfying about making and eating sauce made from fresh tomatoes, whether they are from your own garden, your CSA or a local farm stand.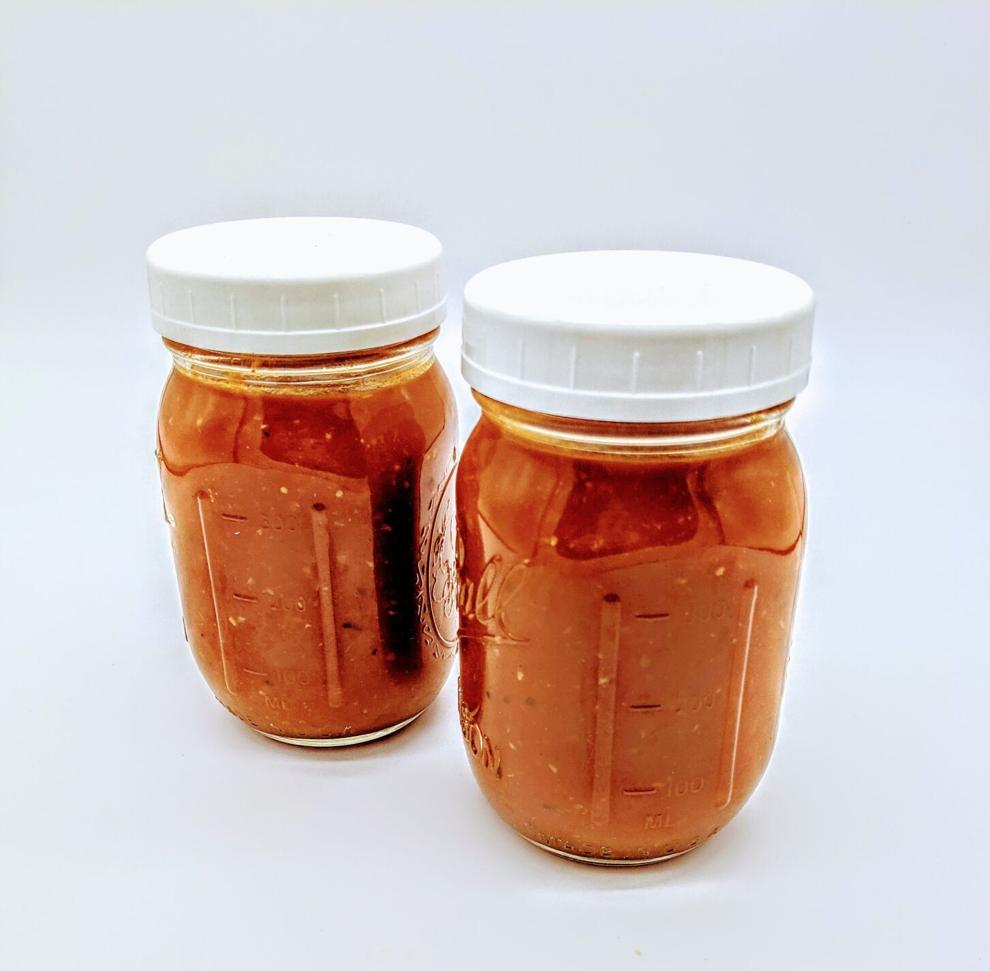 And despite what your grandmother/mother-in-law/best friend/neighbor has told you, there's no wrong way to make tomato sauce. I prefer to make my sauce smooth, grinding my blanched tomatoes in a food mill at the very start. But you can make your sauce any consistency you want (even with chunks of tomato in it) and add in whatever else you might like.
I sautéed a small onion and minced garlic I had on hand with some Italian seasoning, olive oil and a tablespoon of tomato paste. I tossed it into the pot of simmering sauce and then added in kosher salt, black pepper and a tiny bit of brown sugar. I simmered it some more, letting the sauce thicken, before running it back through the food mill and transferring the sauce into waiting, sterilized glass jars. Because I'm using the sauce right away, I put on plastic screw top lids and popped the cooled jars in the fridge. Typically, I can sauce if I'm not using it right away. I hear, that freezing it is probably the easiest method of saving it. I've yet to try it.
For those who have never blanched a tomato or just need a refresher, I suggest watching this helpful video from ArchanasKitchen.com.
When I began making sauce, I used the recipe for sauce found in the "Heavenly Delights Cookbook," published by St. Anthony of Padua Church (Now St. Elizabeth of Hungary Parish) in North Adams. It's simple and, you might notice, calls for two 8-ounce cans of tomato sauce, not fresh tomatoes. (I still refer to the recipe for basic ingredient reminders.)
MEATLESS LASAGNA
(From the "Heavenly Delights Cookbook," submitted by Julia Toohey, originally from her mother, Teresa Fiori.)
INGREDIENTS:
For the tomato sauce:
1 medium onion chopped
1 clove garlic minced
Two 8-ounce cans tomato sauce
One 6-ounce can tomato paste
salt
2-3 leaves of fresh basil chopped
1/2 teaspoon pepper
1/2 teaspoon sugar
1/4 teaspoon oregano
For the lasagna:
1 pound ricotta cheese
4 to 5 hard boiled eggs sliced
1 pound mozzarella cheese — thinly sliced
Parmesan cheese — grated
1 pound Lasagna noodles, boiled as directed on package
DIRECTIONS:
Preheat oven to 350 F.
Sauté onions and garlic. Add tomato sauce, tomato paste, water and seasonings. Simmer slowly until sauced starts to show thickening.
In a 9-by-13-inch baking pan alternate layers as follows: sauce, cooked lasagna noodles, ricotta cheese, mozzarella cheese, and sliced hard boiled eggs. Repeat layering until all ingredients are used. Top with sauce and grated Parmesan cheese. Bake for 30 minutes lightly covered with aluminum foil. Remove foil and bake until it bubbles up on the side, about 20 minutes more.