Have you ever had too many green beans? In your garden? In your freezer?
I'm hoping someone else besides me slowly raised their hand. Because, until recently, I had a giant bag of green beans taking up space in my freezers — first in one of the chest freezers in our basement, and then, in the upstairs freezer, where they stared back at me every time I opened it. They seemed to be saying, "You took the time to pick, trim, halve and blanch us. So, what's keeping you from cooking us?" The answer was, I couldn't remember what I was planning to do with them.
And then, one afternoon, I remembered I had tucked those beans away for a green bean galette. I first made one in the fall/winter of 2019 after being inspired by the many galettes other members of the features department had crafted for an article that ran ahead of Thanksgiving that year. The recipe's other ingredients — whole wheat panko bread crumbs, a puff pastry crust and gruyere cheese, are all readily available in my hometown supermarket, so I waited until the last minute to pick them up.
And as the saying goes, "the best laid plans of mice and men often go awry." No pre-made puff pastry crust. No plain gruyere cheese. So, as I so often do, I substituted. Instead of a pre-made puff pastry crust, I went with a pre-made European-style crust (thicker than a traditional pie crust) and the only gruyere cheese my local store had — apple smoked.
Because I used a pie crust, my galette ended up round instead of rectangular. I followed the directions for the rectangular puff pastry crust, leaving an inch border round, which I scored with a fork. After adding the filling, I gently lifted and folded the crust over and up as I went around. It was easier than I had imagined it would be.
The substitutions, luckily, didn't change the recipe much. I was even able to bake the galette for the same amount of time and at the same temperature as stated in the original recipe.
The overall taste was the only thing that changed, a result of having to use apple-smoked gruyere, which as you can guess gave it a smoky taste. It was a surprising result, that was met with mixed reception — some members of the family were bigger fans than others, who would prefer the regular old gruyere cheese. But the European pie crust was a hit.
Due to the change in size and shape of the galette, I didn't use all of the green beans I had frozen. I did, however, use the leftover green beans that evening — sautéing them in vegan butter with leftover shallots and panko bread crumbs, which were a welcome addition at dinner. (The recipe I've included here is a version that calls for the beans to be blanched and makes 12 servings.)
GREEN BEAN GALETTE WITH APPLE-SMOKED GRUYERE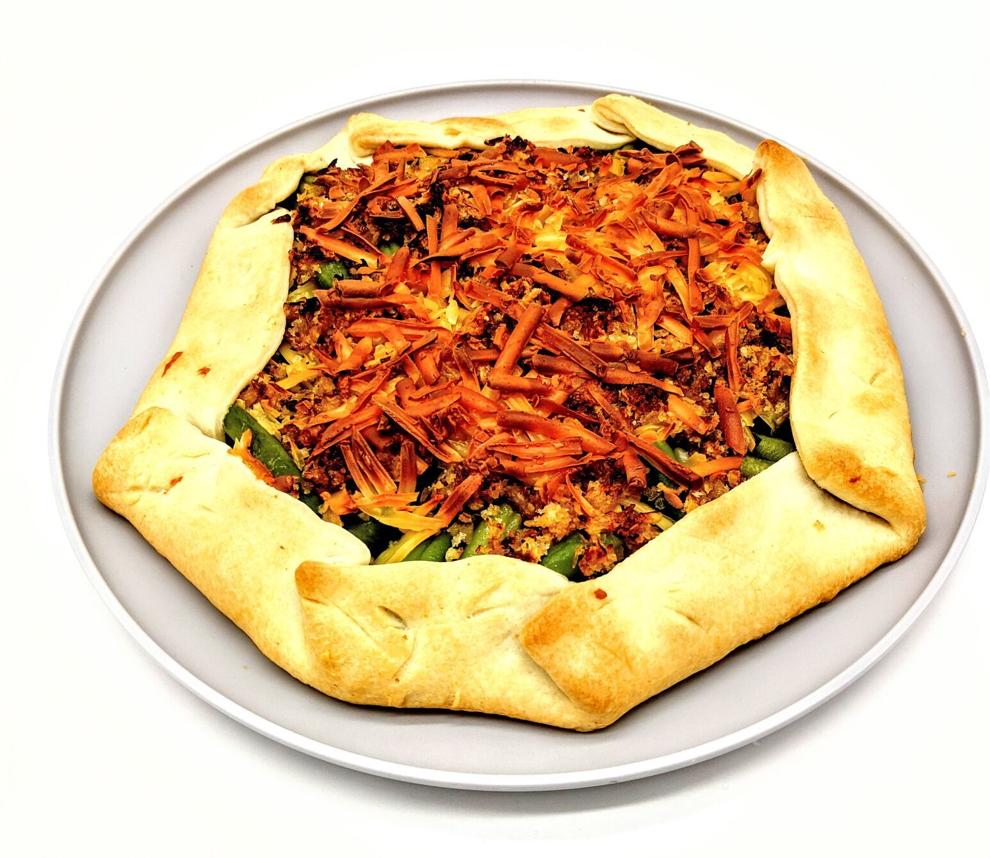 (From adapted from meandthemoose.com)
INGREDIENTS:
1 pre-made European pie crust
6 ounces apple-smoked gruyere, grated
8 ounces fresh green beans, trimmed
large onion, or 3 to 4 large shallots, sliced very, very thin
2 tablespoons butter
1/3 cup whole wheat panko
teaspoon salt
DIRECTIONS
Preheat oven to 425 F. Unfold the pie crust gently on a piece of parchment paper large enough to fit your sheet pan. Set paper and pastry on sheet pan.
Melt butter in a large pan over medium heat and add the onions, cooking until they begin to brown and caramelize. Add the breadcrumbs and salt and sauté until fragrant and toasted, about 5 minutes.
Lightly score a 1-inch border around the edge of the pastry using a sharp knife. This will help the border to rise when baked and create a raised edge for the filling in the middle. Sprinkle half the cheese within the border and then arrange the green beans facing the same direction. Sprinkle remaining cheese on top. Spread breadcrumb mixture over the green beans and brush the outside edge with a small amount of butter and crumbs you've left in the pan.
Bake for 18 to 23 minutes until the pastry is golden brown.
SAUTÉED GREEN BEANS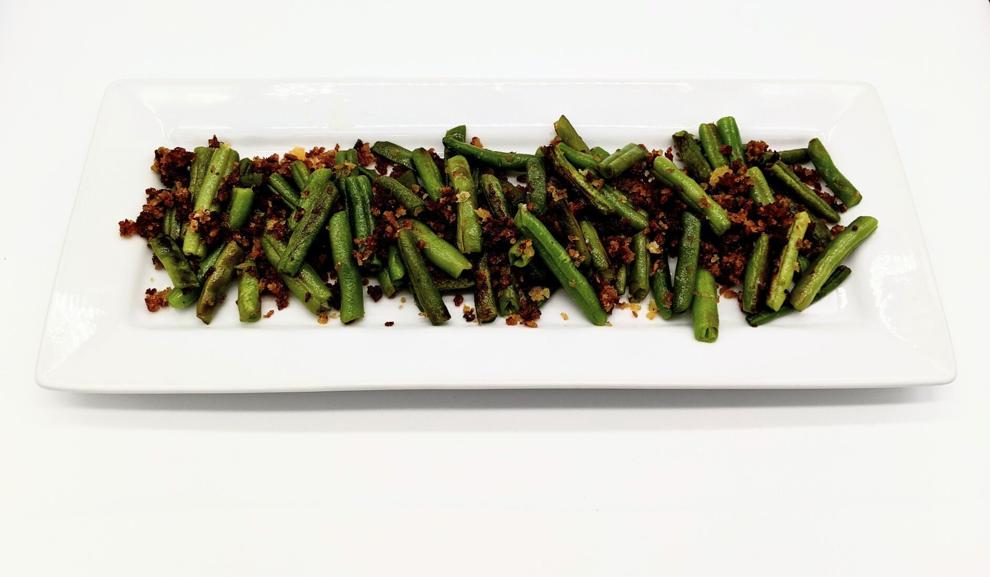 (Recipe from marthastewart.com)
Makes 12 servings.
INGREDIENTS
2 pounds green beans
1/4 cup plus 2 tablespoons extra-virgin olive oil
2 shallots, thinly sliced
1/4 cup plus 2 tablespoons store-bought panko breadcrumbs
Coarse salt and freshly ground pepper
DIRECTIONS:
Prepare an ice-water bath. Bring a large pot of lightly salted water to a boil. Add green beans, and blanch until bright green, about 5 minutes. Drain, and transfer to ice-water bath. Let stand until cool. Drain, and pat dry.
Heat oil in a large straight-sided skillet over medium heat. Add shallots, and cook, stirring occasionally, until golden, about 5 minutes. Add beans, and cook until heated through, about 2 minutes. Stir in breadcrumbs, and cook for 2 minutes more. Season with salt and pepper. Serve warm.