Quite literally, my grandmother's applesauce sustained me throughout my childhood. My mother reports that I was a very picky eater as a baby, and she would hide most foods underneath some applesauce to get me to eat. She likes to tell how I would stick my tongue out, taste the applesauce and open my mouth, allowing her to get the spoon into my mouth fast enough!
For much of my youth, my family was invited to an annual picnic at an apple orchard with the opportunity to pick as many apples as we wanted. Most other families would head home with one or two bags, but, as I recall, we would have bags lining the entire "way back" of our station wagon.
We would bring the apples to my grandmother, whom we called Nena, who would keep them on her porch as she worked her way through the pile, making batch after batch of applesauce to put into her stand-alone freezer. We, periodically, would bring containers of applesauce (and other homemade treats) home with us to store in the chest freezer that my parents had put in our closet in our small Manhattan apartment.
Until I went to college, I always had a bowl of Nena's applesauce to the left of my plate and dipped absolutely every protein into it before eating, even things that seem entirely strange, such as fish or veal Parmesan.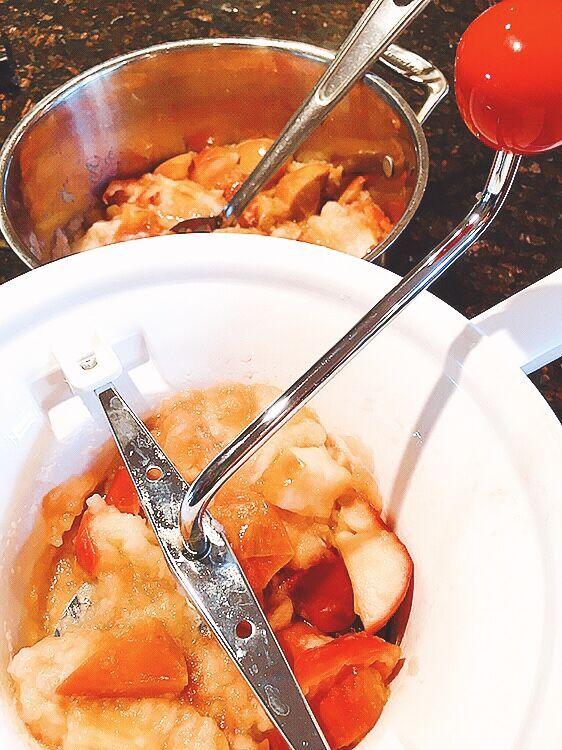 Nena's applesauce was always bright pink, and the story goes that she used to put red cinnamon heart candies in it. I'm not so sure of that, since it never seemed overly cinnamon-y to me. I did learn that by cooking the apples with their skins on, applesauce takes on a lovely rosy hue, and then with a manual food mill the skins stay out of the finished product. Sadly, I never got the exact recipe from Nena. But years later, when apple season came around, I experimented until I came up with a close rendition, pink as hers always was, which I share below, along with a couple of other recipes.
We are fortunate to have wonderful orchards in our area, and in addition to apples themselves there are wonderful other treats to enjoy. For years I have made gravy using hard cider. My family likes it so much I always make extra. There are several orchards and other purveyors in the Berkshires and surrounding areas that make hard cider in a wide range of styles, so you can make this a real local treat.
And you should never leave the orchard without some cider doughnuts. One time, when our kids were home for Thanksgiving, they did not even finish all the cider doughnuts we had bought! I put them in the freezer and a while later decided to try using them for bread pudding. It's now a family favorite, and a great way to use up any extra doughnuts you might have, even if — or perhaps especially when — they get a bit stale.
NENA'S APPLESAUCE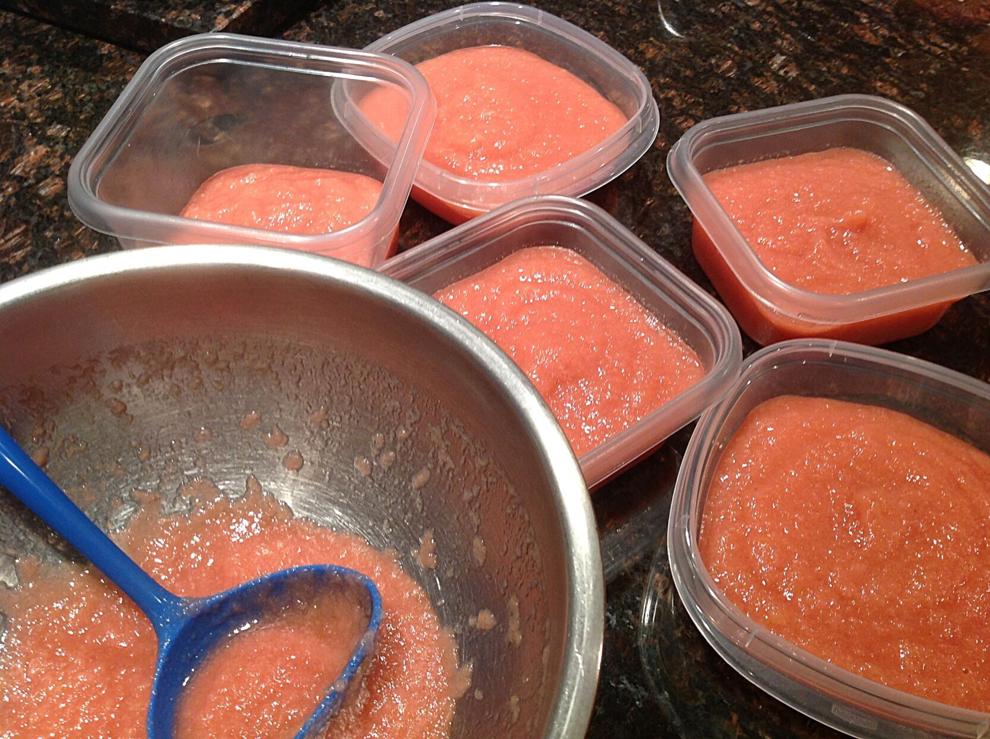 Makes about 6 cups
INGREDIENTS:
3-4 pounds apples, preferably MacIntosh, cored and cut into large chunks
1 cup water
1/2 cup brown sugar
2 tablespoons lemon juice
2-3 cinnamon sticks
DIRECTIONS:
Place all the ingredients into a large pot or Dutch oven. Bring to a strong simmer, stirring occasionally to combine the ingredients. Reduce heat, cover, and allow to simmer for about 15 to 20 minutes, stirring frequently to keep anything from sticking. Once all the apple pieces are all soft, remove from the heat and cool slightly, for 5 to 10 minutes.
Remove cinnamon sticks. Using a food mill with the disk with middle-sized holes, set over a large bowl, purée the applesauce in batches. Turn the food mill back and forth, both directions, to get as much through the disk as possible. The applesauce will go through the holes into the bowl, and whenever too many skins are on the top, scoop them out before adding another batch of cooked apples.
Freeze in containers to use through the year.
CIDER GRAVY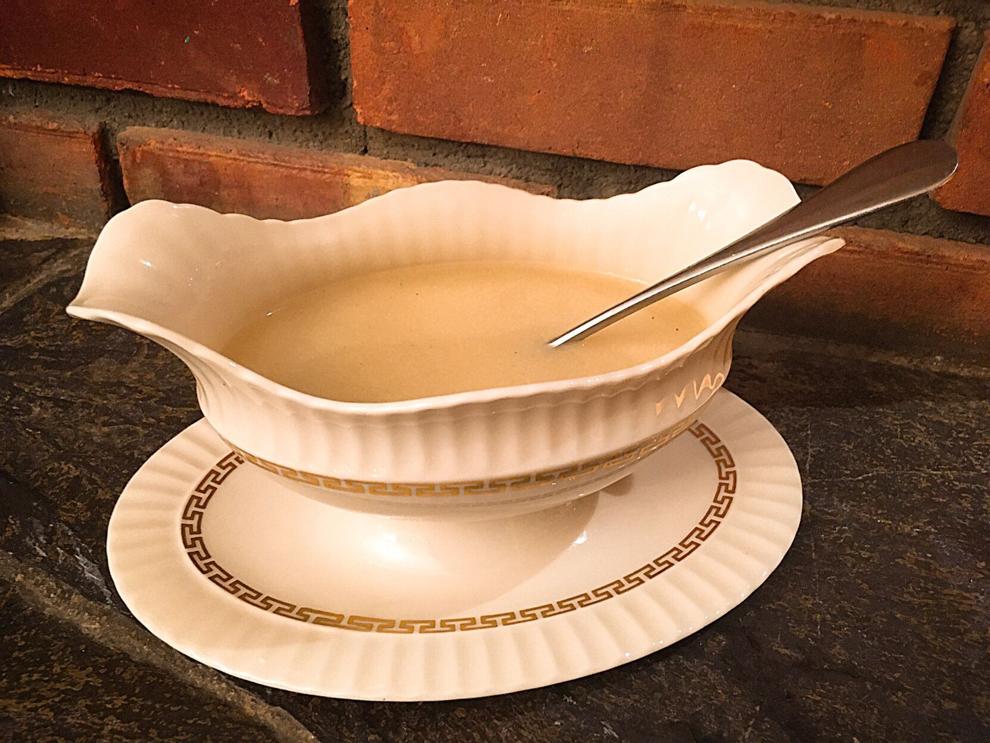 Serves 4, can be doubled or tripled
INGREDIENTS:
Pan drippings from a roast (poultry or pork), still in a metal pan, do not use glass; additional oil as needed
2 tablespoons all-purpose flour
One 12-ounce bottle hard cider
DIRECTIONS:
Remove the roast to a cutting board to rest and tent with foil to keep warm if desired. Place metal roasting pan on the stovetop over one or more burners depending on the arrangement and size of your burners. Remember the pan is hot so use oven mitts.
Turn the heat under the pan to medium-high and add the flour. Whisk the flour in the drippings until well-combined. The dripping should be able to absorb the flour, but if you are doubling or tripling the recipe and the flour is not absorbing, add a small amount of neutral oil.
Pour the cider into the pan and whisk. Allow the gravy to cook until hot and thickened, whisking occasionally to scrape up the browned bits, to remove lumps, and to prevent burning.
Strain into a gravy boat and serve hot.
CIDER DOUGHNUT BREAD PUDDING
Serves 4-6
INGREDIENTS:
6 cider doughnuts, cut into quarters
1 1/2 cups milk
1/2 cup heavy cream
2 eggs
1/4 cup sugar
1/2 teaspoon vanilla extract
1/8 teaspoon nutmeg
Pinch salt
Vanilla or cinnamon sugar for sprinkling, if desired
DIRECTIONS:
Preheat oven to 350 F. Arrange the doughnut pieces in a baking dish or gratin pan. If it seems like the pan might be too full, place the dish on a foil-lined half sheet pan in case of any drips while baking.
Whisk together milk, cream, eggs, sugar, extract, nutmeg, and salt. Pour over doughnuts. Allow the doughnuts to soak up some of the liquid for about 5 minutes. Sprinkle vanilla or cinnamon sugar over the top if desired.
Bake for 45 to 50 minutes until set. Serve warm, with ice cream, whipped cream, or caramel sauce, if desired.