TUNBRIDGE — It's doubtful if, over 50 years ago when Michael Millard built his first guitar in an apartment in Brooklyn that he could project into the future to his retirement and see himself as one of America's foremost builders of acoustic guitars. But as he winds down from his years at the helm of Froggy Bottom guitars in Tunbridge he can look back at 5,000 guitars in the hands of players and great respect from the guitar building industry.
Millard's workshop these days is a converted shed on a back road. Over the years he's created distinctive instruments in New York, New Hampshire, Newfane and Chelsea. While he won't be working with his luthier partners on a regular basis, he says he won't give up guitar building altogether, choosing instead to build instruments when a customer asks for his special touch.
"I am formally retired; if I make a guitar it's because I want to make it," he acknowledged.
Millard is in some ways an enigmatic artist. While his instruments can cost upwards of five figures and have been purchased by the likes of Will Ackerman who founded Windham Records, and is now based in Vermont, Millard doesn't glow with pride about his creations.
"I'm a person, despite the company's fame, who doesn't enjoy the limelight."
The company's Vermont address, he feels, does a lot to sell the quality that Froggy Bottom represents.
"Made in Vermont has meaning," he said. "It suggests quality, and people who take the time to do things well."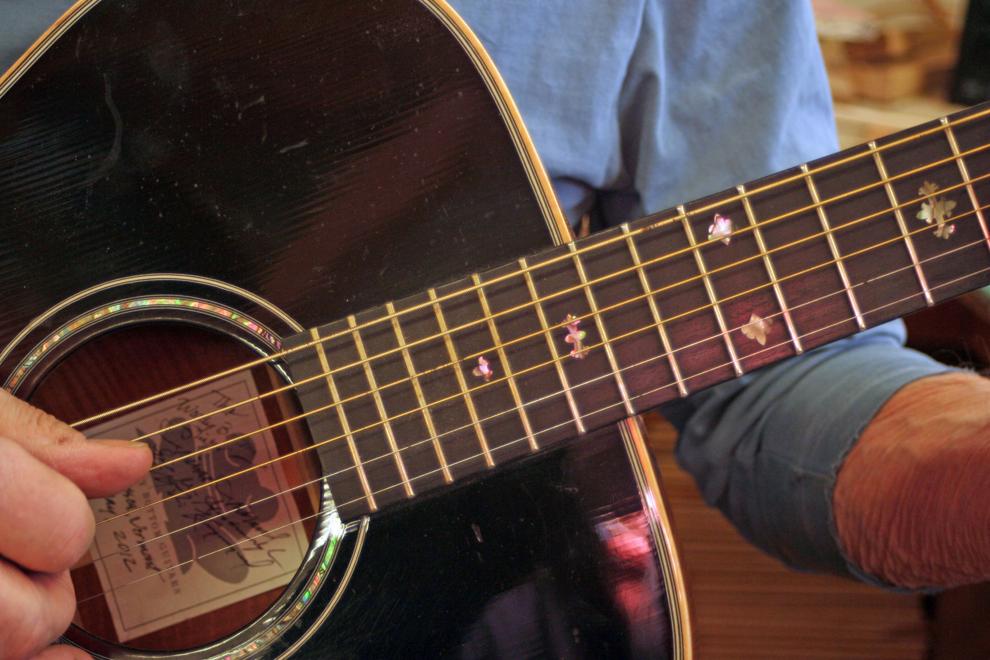 Millard has been building acoustic guitars since 1970 and in his early years worked for luthier Michael Gurian in New York and then New Hampshire. That brand is prized by players like Pierre Bensusan, who owned one in the 1970s. With Gurian, and under his own imprimatur, Millard figures he's built about 5,000 guitars. Gurian moved his business to New Hampshire in the 1970s and Millard moved with him, becoming the main builder for the company.
When Millard struck out on his own he set up shop in Newfane in 1985, and later in Chelsea in 2005, before finally settling in Tunbridge. Most guitar companies are named for the builder. Famous brands include C.F. Martin, Taylor, Lowden, Gibson and Breedlove. Millard chose to name his company Froggy Bottom, a blues reference from the Mississippi Delta and the sound of mating frogs.
Millard steeped himself in the blues through guitar lessons from legendary guitarist-singer the Rev. Gary Davis in the 1960s. He later performed on guitar, and in his early building years split his time between making guitars and playing gigs.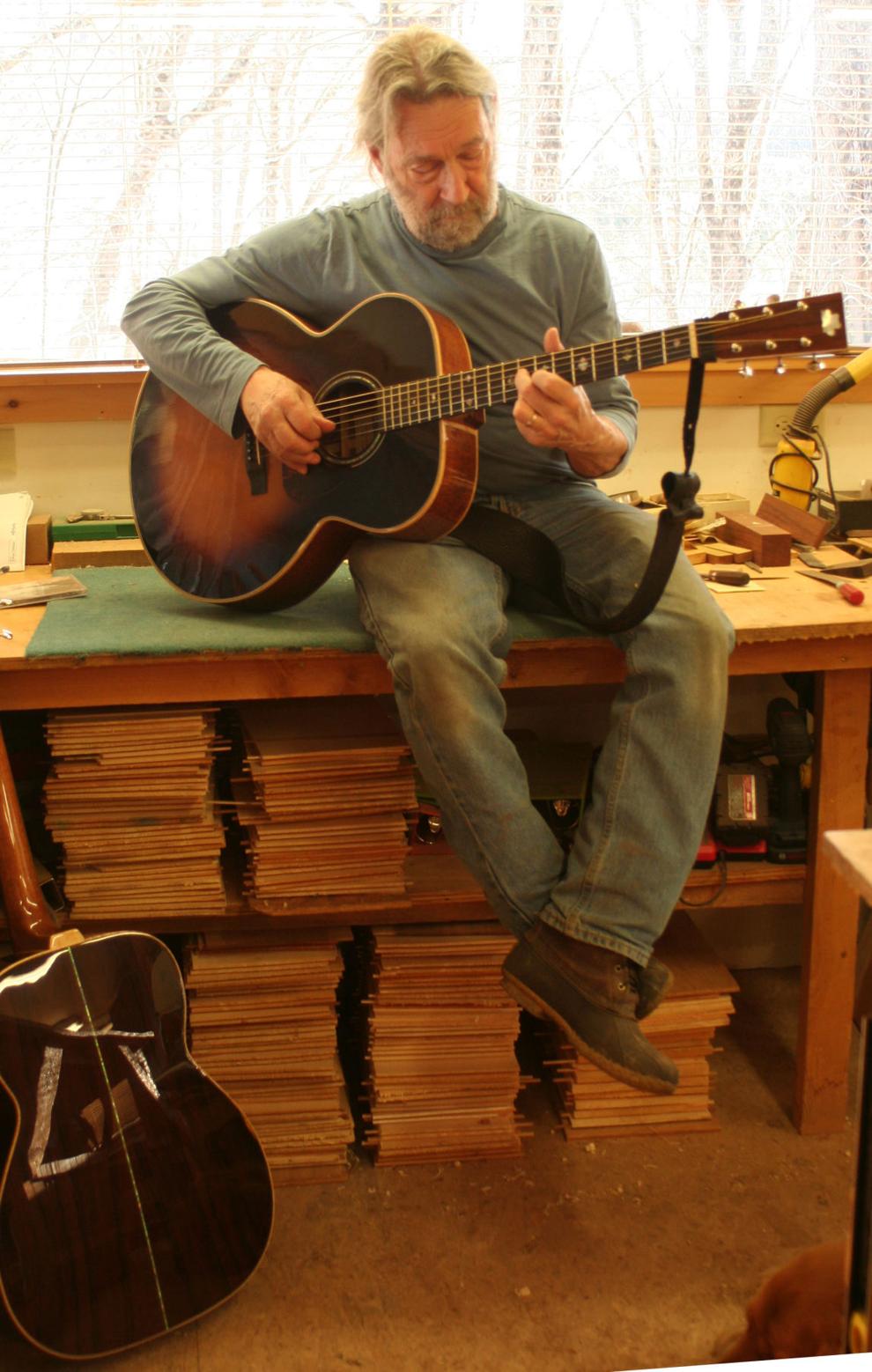 In typical Millard fashion he says he isn't interested in splashing his name across the headstock of his guitars. "I didn't name the business after myself. I'm not drawn to myself."
Having the opportunity to play a Froggy Bottom guitar is a rare pleasure. There are two guitars available to this writer who also plays guitar to try out in the workshop. One is a "jumbo" sized instrument similar in size to a Gibson J model. A few strums are sufficient enough to realize that this older, personal guitar of Millard, is a powerhouse. Sound quality aside, it's also a lovely combination of woods and decorative touches.
The other guitar, which is new and will be raffled off to raise funds for a stroke victim, sounds very different. Its tonal subtleties are still developing but will certainly bring great joy to whoever wins the raffle.
Millard says two things make his guitars and company stand out. First is "an ability to vary on demand every component of the guitar in order to create an instrument that is unique to every individual player on the basis of function."
Unlike the high-end, but mass-produced instruments of Taylor or even Martin, there is "nothing cookie cutter here," Millard explains.
As a small company now building 80 to 90 guitars annually, Millard says the second most important aspect of his building philosophy revolves around "the degree of communication between the player and builders to understand what the player is in need of, and the scope and degree of experience to allow us to translate the idea into the guitar they have in mind."
Froggy Bottom wasn't always this small. Twenty years ago, Millard employed a dozen people with dealers around the world from Tokyo to Europe. That changed in 2001 when the company downsized to four. He said they were attempting to build 300 guitars annually.
That business model had been losing track of "what made us unique and what we love to do," he said. "We were losing track of the intimacy with our players. We decided to downsize, cut to a dozen dealers, and build 100 guitars a year."
"Our guitars are not inexpensive," says Millard, with prices currently starting just under $8,000, "but you get what you pay for."
"Our customers are people who really understand what they need," he says of the person who orders a custom-built guitar.
Explaining the process of ordering an instrument, Millard explains that "a guitar is a tool and they can be versatile."
"When someone comes to me about a guitar I'm trying to think about what they want in a guitar," says Millard. "I focus completely and absolutely on their needs." While there are a number of different body shapes and wood combinations to choose from, "there is nothing generic about what we do. It's all about function."
Froggy Bottom guitars are prized instruments and for Millard, this comes from the quality of the woods and other materials and the adherence to the details and what the customer wants. Millard says he has never used the endorsement route to gain customers.
"We've never advertised on the basis of the people who play our guitars. We never will do that." His reluctance to make splashy self-promotion ads matches his philosophy to a T. "I don't promote myself. Fame is toxic sht. I have no interest in doing. I have no need for any ego burst."'
As Michael Millard reaches 74 in July, he says he's happy with his decision to step back from running a business full time. Longtime co-builders Andy Mueller and Eric Goodenough will run the day-to-day operations of the company.
Michael Millard says he's got plenty of interests beyond guitar building to keep him busy. There is a "full Millard" who is "a husband, a father, brother, friend." He says he likes spending time "with my family, my dog, golden retrievers, and fly fishing." He enjoys photography, bird hunting — especially for grouse — and continuing his Aikido practice.
"All the parts of my life fit together," Millard explained adding, "Also, I like to spend time playing guitar."